Starters for Ten
Jack Writers' Workshop, produced by Jennifer Lunn
Brockley Jack Studio Theatre
(2011)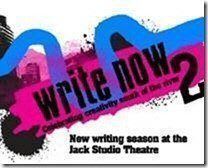 Write Now 2 - the second new writing festival to be held at the Brockley Jack Studio Theatre - launched earlier in the week, truly got underway this weekend with two performances of Starters for Ten, a collection of six ten minute plays.
Billed as a "theatrical tapas" each portion was penned by a participant of the Theatre's Writers Workshop led by literary manager, David Bottomley, and represented a work nurtured within that environment over the last five months.
Diversity of course was the most striking feature of the evening. Here was as wide a breadth of subject and treatment as one could hope to find across six short pieces. Two played like long comedy sketches - delightful Set to Vibrate by Mary Lincoln and the more surreal Paint Him Black by Daniel Stone, which were neat and comfortable within their time limit, delivering a humorous take on an unfunny situation, Lincoln's with a bitter-sweet twist and Stone's with a slapstick close.
Schrodinger's Letter by Serena Haywood captured something of the complexities of adult sibling love and rivalry in a scene which concerned twin brothers and an unopened envelope containing medical results that could irreversibly change their lives. Like Mary Lincoln's piece, this one held my attention, and left me wanting to know what fate lay in the envelope.
Lucy Avery's The Birdcatcher and Just Another Explosion by Jean Gilardi tackled more uncomfortable subjects. The Birdcatcher was a disturbing scene between a child abuser and the now adolescent child he held captive. It offered a glimpse at this strange relationship as the balance of power shifts between the two, but within the confines of the format the use of blindness and bird devouring imagery was overly ambitious.
The action of all the evening's plays took place in actual time except Gilardi's which was broken up into a number of much shorter scenes, some lasting less than a minute and taking place over a number of days. In just short of quarter of an hour we followed the journey of an middle eastern woman accused of detonating a bomb in the local market square. Injured in the explosion she has been separated from her two children but further trauma was to come - the anticipated death penalty, the death of her baby and betrayal by her husband. Whilst Gilardi achieved a sense of tension, it was unclear where the dramatic climax lay and I was left wishing for something deeper about less.
Mike Carter's Exactly What It Looks Like presents every internet porn addict's nightmare (I assume!) - being caught in the act! In this instance a 38 year old uncle's privacy is invaded by his nephew whose wisdom seems to stop at "adults are fucked". Carter needs to assume less knowledge of internet porn amongst his audience because at least two us didn't understand the ending, but the attitudes to sex across the generation divide and the difference in view about sex and "an older woman" and sex and "an older man" hinted strongly at Carter's observational skills.
Starters for Ten was a terrific start to The Write Now 2 Festival which has received support from Lewisham Council Arts Service's Take Part Fund. It is an unfortunate sign of the times that this funding has now been cut entirely.
The Write Now 2 Festival continues with three plays, chosen from over 80 submissions, that will receive their first fully staged performances. Following the Thursday performances of all three plays there will be a short discussion session with members of the creative team and the audience.
Chocolate Bounty by Jessica Brown runs from 22nd to 26th February at 7.45pm. Evening performances are sold out and there is now an additional matineé performance 26th February
The Laundry by Joe Ward Munrow runs from 1st to 5th March at 7.45pm
Keeping Mum by Judith Bryan runs from 8th to 12th March at 7.45pm
The Festival includes Taking Part, individual writing workshops open to all, suitable for those who want to try out something new, or have an idea they would like to develop. The cost £5 per workshop, payable on the day, booking essential. Workshops are led by David Bottomley.
Synopsis Surgery. Get it right before you write! Thursday 17th February 7.30pm - 9.30pm
Creating Characters Saturday 26th February 2pm - 4pm
Write a play in Two Hours Saturday 5th March 2pm - 4pm
Reviewer: Sandra Giorgetti