State of Emergency
Falk Richter, translated by David Tushingham
Gate, Notting Hill
(2008)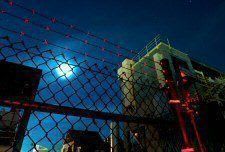 Despite echoes of Harold Pinter, Caryl Churchill and overwhelmingly 1984, State of Emergency has all of the hallmarks of a German existentialist dirge.
It shows a family in the deepest dystopian depression during some post-apocalyptic, totalitarian era.
Director Maria Aberg and her designer Naomi Dawson have chosen to locate the actors behind sealed glass from which their disembodied voices are heard through microphones.
This makes some sense, since Falk Richter has taken the concept of a gated community to its limit, where war is raging beyond and dead children adorn the fences that cannot be safely approached, let alone passed.
Woman, played by Geraldine Alexander, is neurotic but the extent is uncertain. She may not fully recognise her low-achieving husband and 13-year-old son because the occupiers of their bodies are alien or due to her own madness.
Jonathan Cullen as Man tries to soothe but is better at sleeping, while unhappy Boy (James Lamb) might be part of a gang involved with sinister outsiders or just a boy suffering the problems of puberty.
Whichever theory is right, little that they say through the longest of 80 minutes seems important or enlightening. By the end, other than an impressive sense of unease and a weary feeling that this place is to be avoided at all costs, it is hard to see the point. Then again, maybe that is the point?
Reviewer: Philip Fisher