Statements After an Arrest Under the Immorality Act
Athol Fugard
Jermyn Street Theatre
–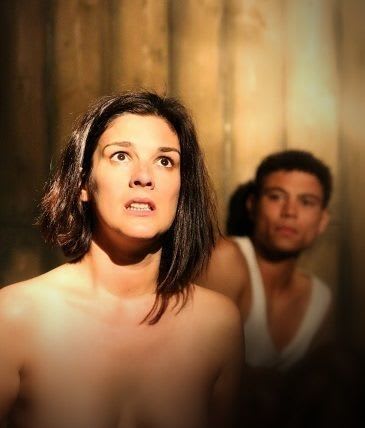 The intensity of Statements After an Arrest Under the Immorality Act would be hard to bear if it were merely a play about an affair between Frieda, a librarian in the isolated Cape Karoo, and Errol, the Principal of her local school.
Add in the fact that coloured Errol is six years younger than his white lover and married with a child and you have the material for a powerful drama.
However, Athol Fugard goes much, much further in a play that is as political as it is personal. In the mid-1960s, sexual relations between a couple from different racial backgrounds was a criminal offence in South Africa. Love doesn't come into it and this pair very clearly love each other deeply and passionately to the extent that they are willing to risk arrest in return for occasional stolen hours of pleasure.
From the start of 75 minutes packed with emotion, the ending is inevitable. In Cape Karoo, secrets are hard to keep and a long-running inter-racial affair is almost certain to end, as this one does, with a raid led by Jack Klaff's self-righteous Du Preez.
From that point onwards, the motivations and interactions of the pair with each other and the wider communities (inevitably there are two, separated on racial lines) take centre stage in a catechism of interrogation that lays their souls as bare as their bodies.
Director Cordelia Monsey maintains the tension throughout a taut, unforgettable evening. David Judge and particularly Jasmine Hyde give raw, deeply moving performances as the protagonists in a fatal affair that Fugard uses to make some pertinent statements about the evil and pointlessness of Apartheid.
Perhaps the most pleasing thing about this high quality production, which forms part of Jermyn Street's South African Season, is that the politically-charged events that it depicts are now a thing of the past in South Africa. Unfortunately, while that is very welcome news, there are still similar laws operating in far too many countries around the world today.
Reviewer: Philip Fisher