Static
Dan Rebellato
Graeae and Suspect Culture
Soho Theatre
(2008)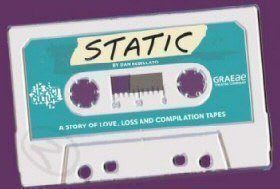 It is quite an unusual experience to arrive for an opening night and find rave reviews from your publication all over the posters. Alison Burns loved this show in Glasgow and while it is flawed, it isn't difficult to see why - as long as you are a pop music freak.
Static is a collaboration between three diverse groupings. Playwright Dan Rebellato is an academic and writer who had an Edinburgh hit with the multimedia Mile End for which he was awarded a Fringe First. Graeae is a theatre company that prides itself on working with actors who have disabilities, while Scottish company Suspect Culture are best known for their iconoclastic work with founder, David Greig.
For ten minutes, they come up with something that seems irredeemably tepid, until the death of Chris, played by Steven Webb. The scenes just after his passing from a brain haemorrhage that might be connected to a car crash a decade before are like a bland re-run of Chris O'Connell/Frantic Assembly's Hymns but with added sign language delivered by the actors.
From there on though, this homage to pop music and those who run their lives by it becomes really touching, building to an ending that might well draw tears from even the most hard-hearted. That is certainly the intention and Rebellato probably makes this a little too obvious with his music detective story with clues on a tape compiled by a dead man who was deaf.
Chris leaves behind a devastated wife, Sarah; a lost buddy Martin; and an angry sister, Julia (Jeni Draper). Each misses him like an extra limb and compensates in their own way.
Pauline Lockhart plays the wife who believes that she feels the ghost of her late husband. This is pretty reasonable, in that he inhabits the stage as much dead as he did alive. She also tries to fathom out the mystery of a compilation tape that he left behind, speaking from beyond the grave to her.
Her willing assistant is the possibly autistic Martin (Tom Thomasson), who has a great sense of humour and the kind of musical hero worship that is unhealthy.
He also breaks up an evening of very short scenes (59 in 90 minutes) with cod reviews of rock concerts that never quite happened. To pick one at random, Martin enthuses over Nirvana's 2008 appearance to commemorate twenty years in the business with Kurt Cobain as lead singer.
The gig that creates the mystery and cements Chris's love for Sarah was positively the last one that Richey Edwards played with the Manic Street Preachers. If that means nothing to you, Static might be like wandering around in a foreign country where there isn't even any sign language to aid understanding.
However, to those who understand the romance of dead pop stars, the play will be a refreshing revelation as you try to identify the music (answers appended to the script), follow the plot and remember the immortals.
Reviewer: Philip Fisher