Steptoe & Son in "Murder at Oil Drum Lane"
Ray Galton and John Antrobus
Comedy Theatre
(2006)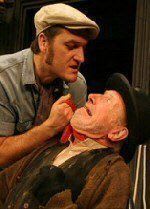 The nostalgic re-running of much-loved TV and radio comedies is fast becoming a recognised stage genre. Next month, Pete and Dud will be with us and in recent years, Morecambe and Wise, Benny Hill, the Carry Ons, the Goons, Kenneth Horne and Acorn Antiques have appeared in the West End; and that is merely the tip of an ever-expanding iceberg.
At their best (say Round the Horne), they are a pleasure that brings back the heady days of youth, childhood or even pre-history for viewers. The bad examples can be excruciating attempts to cash in on big names without the need to spend much money on scriptwriters. It is amazing how many of those writers are still at work today, for example Ray Galton who is half of the team behind this show, Alan Simpson having withdrawn from the team a generation ago.
On this occasion, the curtain rises on a junk shop that immediately brings back Proustian memories of childhood in front of the box, though colour now intrudes. This is nominally a National Trust monument to those grubby Shepherd's Bush rag and bone men who amused millions between 1962 and 1974 and continue to do so on some TV stations that you hop past with your remote control in moments of sensory desperation.
Into his old home strides the upwardly aspirational Albert (the & Son) to reminisce about his past and the love-hate relationship that he enjoyed with his old dad. Jake Nightingale may not really look the part but he perfectly catches Harry H Corbett's vocal intonations, failing to sound an 'r' all night.
Albert has been on the run for nearly thirty years after slaughtering the old man with an Assegai, having finally been driven over the edge by a financial disaster, constant baiting and sexual frustration as "bird" after "bird" is scared off.
The first half starts with a lame scene involving Albert and the NT's posh, female curator. Then, the ghost of Harold appears, played by Harry Dickman who is quite close to both the look and sound of Wilfred Brambell. He, like Corbett, is sadly long departed.
The pair then relive a weakly scripted, non-PC reconstruction of Albert's childhood and youth, reaching a nadir with his time in the Hitler Youth, following recruitment by Herr Von Ribbentrop himself and then repatriation due to his Jewish antecedents, the Stepsteins.
The interval brings a sea change and thereafter, the audience gets what they must surely have been after. A lengthy episode of Steptoe and Son drawing some of the better gags from years of TV and film series based on the hapless pair.
The jokes are always on the border of smutty but rarely go beyond and we are able to enjoy some classic laughs, even if the jokes are rarely newly-minted. This is hardly relevant to an audience eagerly waiting to laugh as soon as the insults and catchphrases flow. How can anyone of the right age resist the moment when Albert finally, disdainfully calls Harold "You dirty old man"
One can doubt the validity of shows like this but they serve a purpose of giving older audiences a chance to reminisce and laugh. In this case, the ideal modus operandi might be to have a couple of pints to get yourself into the mood rather than arriving too early. Then sneak in at the interval and wallow in the fun for the final hour, which even culminates in a touch of pathos and a twist or two in the tail.
J D Atkinson reviewed this production at the Theatre Royal, York
Visit our sponsor 1st 4 London Theatre to book tickets for
Steptoe and Son in "Murder at Oil Drum Lane".
Reviewer: Philip Fisher