Stick Man
Based on the book by Julia Donaldson, illustrated by Axel Scheffler
Soho Theatre
(2009)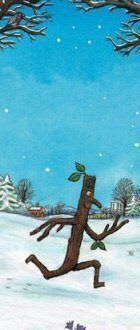 Soho's Christmas show for ages 3 and above is a lovely 50 minute long adaptation of Julia Donaldson and Axel Scheffler's rhyming Stick Man - with the same creative team as behind Aesop's Fables and We're Going on a Bear Hunt. Produced by Scamp Theatre in association with Watford Palace Theatre, where it premiered this September, it has delighted audiences in 29 venues across the UK before settling into the Soho Theatre for Christmas.
Soho Theatre can be relied upon for a good Christmas Show for children, I overheard a parent say - a regular customer. And his daughter's excited running commentary throughout more than made up for the fact that my 5-year-old companion was laid up with flu at home. It's always the children who make the show, and here they were bubbling with excitement and over-eager to participate. The little boys in the front row were practically out of their seats and on the stage.
Three amiable performers, Brian Hargreaves, Emily Pollet and Mark Kane, hold the children's complete attentionwWith puppets, fun props, great sound effects, songs, and music. Blues music for saxophone, trumpet, and percussion by Benji Bower, clever tree stump design by Katie Sykes, lovely lighting by Elanor Higgins, and simple hand-held puppets by Corina Bona, on Soho's intimate stage these bring to life, under Sally Cookson's direction, a simple tale of dangerous escapades and inadvertent adventure without alarming the youngest but giving the oldest something to chuckle about - not an easy thing to pull off. Emily Pollet grabbed my attention with her multiple roles - she makes a convincing dog, a funny reindeer, a bespectacled girl with an annoying laugh, an inquisitive swan (an arm puppet), and more - but all three actors are unselfconsciously good.
Out on a morning jog Stick Man is mistaken for a dead stick by a playful dog, a little girl wants to play Pooh Sticks with him, and a swan thinks he's a perfect twig for her nest. He escapes from the nest, only to be swept away to sea. He lands on a beach where he makes a fine flag mast for a sand castle. Finally, poor brave misunderstood little Stick Man, who is lonely and misses 'his Stick Lady Love and their stick children three ' (cue a blues number for sax and trumpet), makes his way back home, is caught in a snow storm, falls asleep frozen, and wakes up to find himself in a fire grate, whereupon he hears a Stuck Man in the chimney. Well, you can guess Santa rescues him and takes him on a sleigh ride. And delivers him home to his family tree (get it?). Ho, ho, ho.
Small, perfectly shaped, and charming (like Stick Man himself), the show does not outstay its welcome. The children are asked to recap the events (testing their concentration), are appealed to directly by Stick Man in his delicious Scottish accent to help him get back home. There's a stick fight with the sticks getting bigger and bigger, five dazzling beach rings, which encircle Stick Man like a hoopla (his actor impersonator dances the rumba), a trip through the four seasons, Santa's wellie on his head, and three tiny red stockings hanging off the family perch - ah!
Running until 10th January, 2010
Reviewer: Vera Liber