Still Killing Time
Barrie Keefe
National Youth Theatre
Soho Theatre
(2006)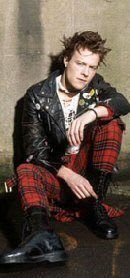 For its 1970s play in the 50th birthday season, the National Youth Theatre has signed up long-time member, Barry Keefe to write a play set on the eve of the Queen's Silver Jubilee in 1977.
Ciaran Owens is Paul, typifying the 18 year-old of his time, unemployed and bitter. With his mates, Jan and Louis (Joseph Stamp and Robert Bertrand), he heads up to Buckingham Palace for a spot of bearskin baiting. To be more accurate, their target is guardsmen beneath the furry hat.
Strangely, the almost silent Guardsman played by assistant director, Mark Weinman turns out to be the comic star of the piece twice over. This may not have been intended but both at the end of the first scene and even more so at the play's wonderfully anarchic denouement, he gets the best of the laughs.
In between, Paul and his pals have a run-in with Ricky, the glamorous (female) owner of the pub that they frequent but are banned from. Shakira Brooking gives a lovely performance in this part, debunking the proud Paul turning him from a loud lout into a quivering child almost effortlessly.
Reviewer: Philip Fisher