Stomp
Luke Cresswell and Steve McNicholas
Vaudeville Theatre
(2006)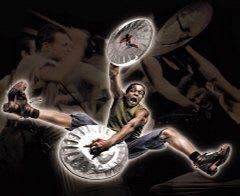 Anybody who has attended the Edinburgh Festival will be aware that the city is packed with street entertainers, often grubby and sometimes talented jugglers, acrobats or statues.
The more thoughtful may have wondered where they go for the other 48 weeks of the year and a visit to Stomp might give them a clue.
This multi-award-winning entertainment has had a worldwide appeal for decades now. In part, that is because tourists and children can enjoy a show that appeals to instinct as much as intelligence and literally has no text to confuse those who are learning, or not as the case may be, the language of the country in which they are viewing the show.
After a spirited medley of African music with one Arabic track thrown in for variety, first one sweeper appears cleaning the stage, while tapping out a rhythmic beat and then gradually he is joined by colleagues to make up the full complement of eight, selected from a wider ensemble who between them perform the show eight times a week.
The six men and two women are dressed in what might be described as industrial chic with ripped, dirty T-shirts and jeans, an abundance of tattoos and a collective look of great intensity.
From just over an hour and a half, they perform a show that is primarily based on African Dance, majoring on riffs created using props, which also play a significant physical and visual part in many of the routines.
It seems pretty safe to suggest that no other show could hope to use as wide a variety of props. Stomp employs everything from boxes of matches through sink plungers to every element of the primarily metallic set and, spectacularly at the death, dustbin stilts.
Even better for a jaded critic looking for a fitting cliché, they literally play a set using four kitchen sinks. On the night under review, as the show celebrated its fifth birthday at the Vaudeville Theatre, this section accidentally got them their biggest laugh of the night, as a couple in the front row walked out in a huff after getting a soaking. Beware tickets for rows A to C in the stalls unless you have brought a mac with you!
All of this is delivered with perfect synchronisation in which no cast member dare put a foot out of place.
The only exception is a big, rather chubby lad with the bad Mohican. Like a silent comedy anti-hero, he has been selected to get everything wrong, garner the disapprobation of his incredibly professional playing colleagues and the sympathy of the audience. As butt of every joke, he also gets all of the biggest laughs (at least on nights when the front row remains intact).
This show's attractions are the ability to appeal to people without the need for them to understand a particular language; a vibrant noisiness that reaches its peak when the dustbin lids are used for a kung-fu fight and dustbins beaten with vigour; and a strange mix of aggressive vitality and innocence that often characterises the best street entertainers.
Stomp has proved successful for so long that there seems no reason why should it not continued to fill theatres around the world forever. Even on a Tuesday night, it had an audience that was not far short of filling the Vaudeville Theatre. This is hardly challenging theatre bu,t like The Blue Man Group, will ensure its creators a healthy pension fund, even if they never create another show in their lives.
Reviewer: Philip Fisher