Stone Cold Murder
James Cawood
Talking Scarlet
Yvonne Arnaud Theatre, Guildford
–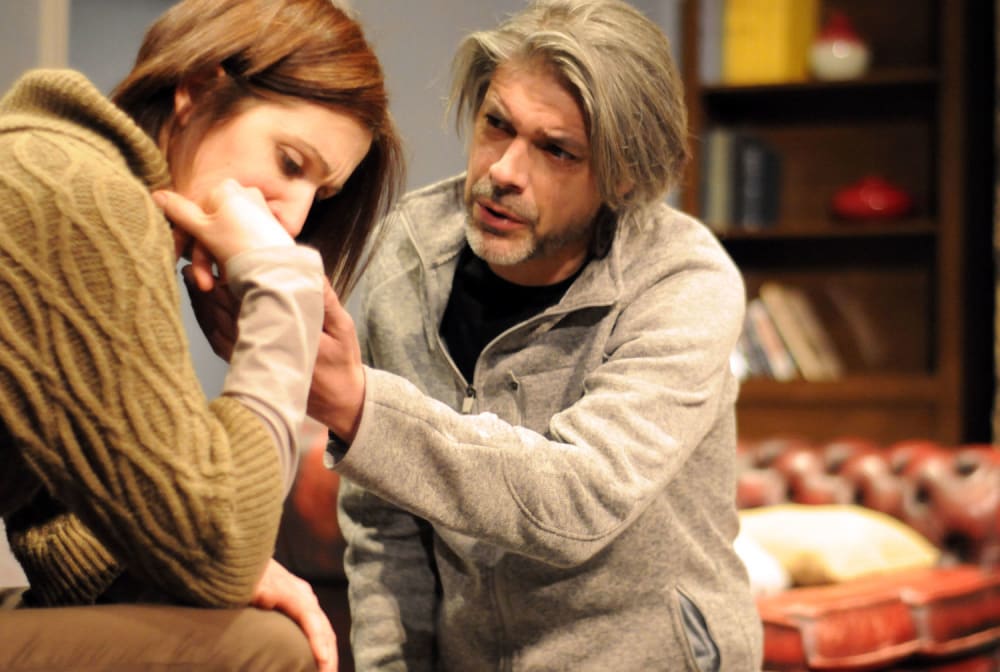 The show begins with a loving couple, Olivia and Robert, in a cosy domestic situation.
They are recently married, and have just completed their first six months as proprietors of their isolated Country House Hotel in a remote area of the Lake District. Now, closed down for the winter, they are relaxing and settling down for the night by the fire as snow falls outside and the wind howls around the building but, as this is a mystery thriller, all is not as it seems and they are not quiet and content for long.
The phone rings, but no one is there. Well, not too mysterious yet, we all get those calls, but then a balaclava-clad figure appears at the window (seen by the audience only), and there are loud banging noises with no explanation. Something is about to happen and it does.
Even in this early scene, little clues as to what might occur are dropped, but it is the first piercing scream which brings the audience right back on track, the shock causing a few screams from the audience too, but no problem, the intruder is only a climber having lost his way in the snow and needing a room for the night.
Having recently viewed The Ghost Train, also directed by Patric Kearns, I began to wonder if the ability to scream so piercingly might be a prerequisite for auditions. It certainly focuses the concentration so as not to miss a thing.
Act one is totally engrossing and seemed to be over very soon, with enough strange comings and going to discuss in the interval.
Why is it that the mysterious climber has no climbing gear with him? Why is he searching the house when the couple go to bed? What is it that Olivia had no chance to tell her husband, and will Sam Stone, her violent, ex-boyfriend, manage to find her?
The main concern of the story appears to be the whereabouts of a certain diamond which, it seems, was once set in a necklace belonging to Marie Antoinette, a historical fact which caused a scandal at the time and probably contributed to bringing down the French monarchy, but back to this plot which twists and turns so much that you're not at all sure who the villain of the piece is, and right to the end it is still a surprise and very cleverly contrived.
What is also cleverly contrived is Geoff Gilder's set which, as well as being an excellent depiction of the reception / living room of a moorlands country hotel has patio doors outside which most of the bodies fall so they don't have to be carted off stage in full view. Eventually it seems that backstage must be littered with corpses, but luckily with only four in the cast the numbers are limited.
In my opinion, there is rather too much dialogue in act two making the action rather static, until a revolver is produced and all hell is let loose.
The four performers Freya Copeland, Nick Barclay, David Callister, and Gary Turner all play their parts extremely convincingly, creating plenty of tension and mystery, and at the end there is only one left standing. The biggest mystery is: who will it be?
Reviewer: Sheila Connor