The Stone
Marius von Mayenburg, translated by Maja Zade
Royal Court Theatre Downstairs
(2009)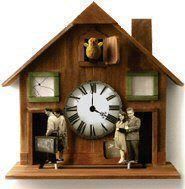 The first play in Off the Wall, a Season of New Plays about Germany, anatomises that country from an oblique view point. Like Caryl Churchill's Far Away, which took on similar issues, it frequently says much more in the gaps than it does in the text.
The Stone is a play packed with resonances, as it looks at German history for close to six decades commencing in 1935. Its points of focus are a family and the home that they fortuitously occupy for much of this period during which the Eastern part of the country was itself under a series of hostile occupations.
In this production by Ramin Gray, who, like actress Amanda Drew, helped to make von Mayenburg's The Ugly One such a success, the potential confusions are exacerbated by removing breaks between scenes and any real sense of jumping across time. This means that in order to pick up on the meaning, it is either necessary to concentrate fully or have a quick scan of the script, which at the Royal Court doubles as a programme.
The brightly lit house sits in Dresden, close to a border that changed hands regularly over the period. At the start, it is occupied by a Jewish family represented by Justine Mitchell's cultured Mieze. However, in 1935 with Hitler becoming increasingly antagonistic, they need a guardian angel and he comes along in the person of Wolfgang (Jonathan Cullen).
As his granddaughter Hannah, played by Loo Brealy, has been taught, the old man was practically a martyr for the way in which he rescued the Jewish family and financed their escape.
As we gradually discover, there was far more to the story than was passed through the generations. Using stopping off points in 1945, 1953, 1978 and 1993, von Mayenburg uses the common link of Wolfgang's increasingly dotty wife Witha.
She is outstandingly played by Linda Bassett, who coincidentally also starred in Far Away, and gradually reveals a tale far more of treachery than heroism. This startles not only the audience but also the couple's daughter, Helen Schlesinger's Heidrun.
Yet another man-less woman is devoted to a series of symbolic stones, one the house but more significantly a second thrown at her grandfather in another age.
In addition to the story of the Jewish displacement, there are others relating to the arrival and departure of communism, which proved to be a misfortune for Stefanie, played by Miss Drew.
In only an hour, Marius von Mayenburg creates a fascinating debate about the nature of history and heroism but also the way in which we like to reinvent and improve our personal histories. At the same time, he shines a spotlight on to his country and the behaviour of its inhabitants, during a period when waves of evil continuously flowed.
The Stone is a very distinctive, stylish work that rewards a little effort on the part of its viewers. Like Gunter Grass's The Tin Drum, it tells the story of war from a personal perspective and in doing so becomes far more powerful than any number of films featuring overt torture and terror.
Playing until 28 February
Reviewer: Philip Fisher