Stones in His Pockets
Marie Jones
Barn Theatre
Barn Theatre, Cirencester
–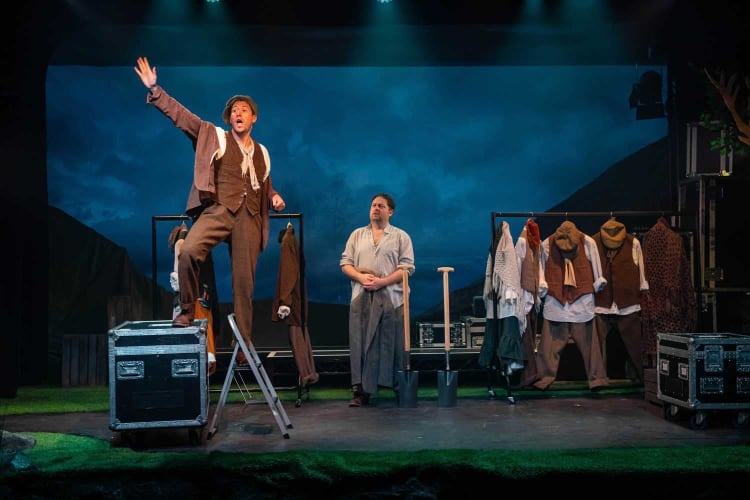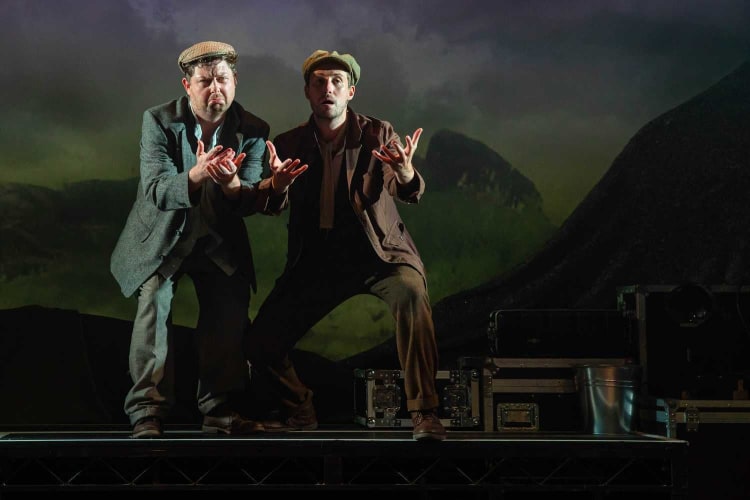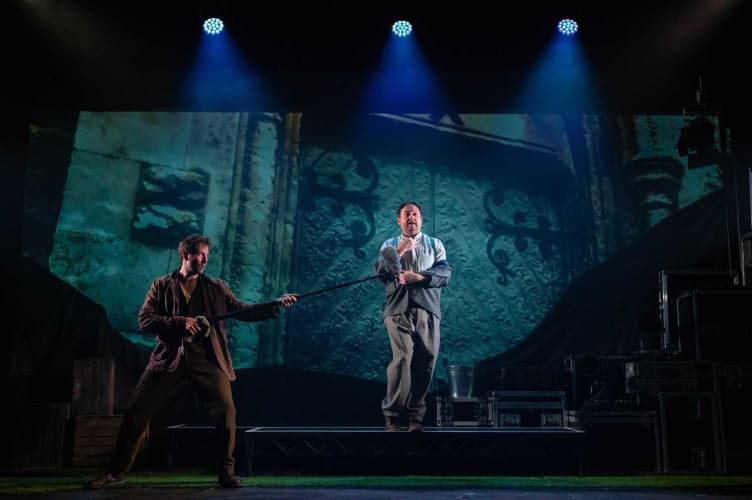 Anyone who saw Stones in His Pockets in one of its earliest incarnations would immediately have realised that they were in at the start of something big.
This new version directed by Matthew McElhinney has been timed to coincide with the 25th anniversary of the original production.
Running at 2½ hours, it is a very different animal from the raw, emotional and incredibly funny play that audiences enjoyed in Belfast and subsequently around Ireland, in Edinburgh, the West End and across the world.
In 1999 at the Traverse Theatre as part of the Edinburgh Festival Fringe, the original cast of Sean Campion and Conleth Hill played in a black box space with neither set nor substantive props. Instead, viewers were treated to a masterclass in comic acting, which somehow at the same time never stinted on the pathos of a romantic story with a tragic edge.
This 21st century version has been reimagined and significantly updated with a contemporary aesthetic. Now, designer Gregor Donnelly has gone overboard in creating a busy set, backed by a large video screen ironically peopled by extras playing stars of the silver screen.
The irony is intentional, since this is a work that foregrounds extras. They are led by Jake and Charlie, a far from dynamic duo who are delighted to receive a per diem of €100 for filling the background of a Hollywood movie being filmed in County Kerry.
They and their colleagues are treated in very much the same way as the cattle by a production crew who largely appear to be English, although the stars are the real American thing.
On one level, this is a tale about the thin veneer of romance that is all movies can offer. On another, it is a story about the Irish people and the way in which they have been treated by imperialists of various hues for generations since the days of potato famine right through to economic difficulties following the slaying of the Celtic Tiger.
Much of the fun lies in the fact that dozens of characters are portrayed by Shaun Blaney and Gerard McCabe, who work incredibly hard and display impressive stamina through such a long running time, sending up the movie industry, the Kerry community and themselves with alacrity.
The result is inevitably good fun, although those that remember the play in its early days might question whether some of the modernisation and elaboration has added anything to what has always been a perfectly honed script.
Reviewer: Philip Fisher