Stones in his Pockets
Marie Jones
New Vic Theatre Company
New Vic Theatre, Newcastle-under-Lyme
–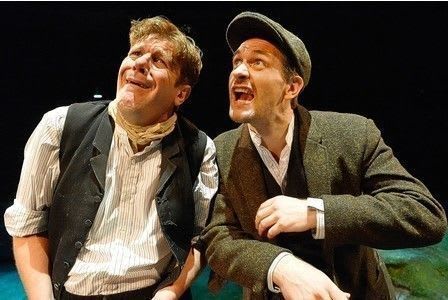 Fourteen years after it won the Irish Times / ESB Irish Theatre award for best production, Marie Jones's observational comedy Stones in His Pockets is being produced almost as often as Irishmen drink Guinness.
Its underlying theme of the clash of two different cultures is just as touching today as it was when the play first opened in Northern Ireland. And most of the widely varying characters leave a lasting impression, thanks to Jones's incisive, bubbly script which never goes flat.
If you're familiar with the play, you'll know that two actors take on all the roles between them. It's a daunting task for the pair who are cast; it's made even more difficult in-the-round at the New Vic where the actors are subject to even closer scrutiny than usual.
But Colin Connor and Glen Wallace make excellent use of the space, addressing asides to members of the audience and making them feel a part of the play.
Stones in His Pockets features an American film crew's arriving in an isolated village in County Kerry. The locals are delighted to earn good money as extras on the film set—but the world of Hollywood isn't all it's made out to be.
Some of the villagers strive for the fame and fortune enjoyed by those working in the movies. But Jake Quinn who's just returned, dispirited, from New York after failing to become a movie star and Charlie Conlon who's trying to get someone to read his own film script come to realise that money doesn't necessarily bring happiness.
Glen Wallace (Conlon) has toured the Far East and the Middle East in Stones in His Pockets while Colin Connor (Quinn) recently played multiple roles in Phil Vasili's Tull at Bolton Octagon and has plenty of experience of in-the-round productions.
In Paul Warwick's pacy offering, Wallace and Quinn produce an array of memorable characters, changing from one to another with a quick turn, a different posture or a change of facial expression.
Wallace is slightly the more impressive, being totally believable as film star Caroline Giovanni with the dodgy Irish accent, her Scottish security guard Jock and assistant director Simon with his hand permanently over his ear.
Connor is usually excellent in his character range, particularly as Quinn when he believes Miss Giovanni fancies him and as drunken Old Mickey who is the last surviving extra from John Ford's movie The Quiet Man. However, he is not quite so convincing as Aisling, the production assistant in charge of the extras.
The pair bring out all the humour and pathos of Jones's script, leaving you with the upbeat message that there can be hope out of tragedy.
Stones in his Pockets requires skilful character actors who can switch from one part to another without leaving the theatregoer confused. Wallace and Connor are brimming with style and panache, pulling it off superbly.
On one of the hottest nights of the year, it was a pity there were plenty of empty seats as people were too weighed down with other things to do than go to the New Vic.
Reviewer: Steve Orme