Stones in his Pockets
Marie Jones
Tricycle Theatre
(2011)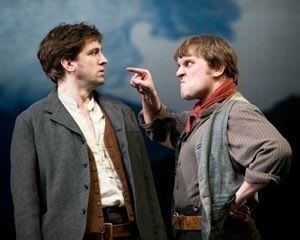 In some ways, it was a brave decision to revive Marie Jones's smash hit Stones in his Pockets at the Tricycle where it enjoyed its London debut at the turn of the millennium.
Many viewers this time around will still have vivid memories of the defining performances by Sean Campion and Conleth Hill, both of whom have enjoyed great success ever since.
Looked at differently, this is a sure-fire hit in a community that still has a significant Irish presence. It is a fantastic entertainment that mixes comedy and pathos while subtly commenting on the harsh realities of life in rural Kerry in the mid-1990s.
Sadly, the recessionary problems faced then will seem just as relevant to audiences today, as the Irish economy once again plunges into free-fall.
The underlying idea is simple but remarkably effective. In a homage to John Wayne's Irish sojourn in The Quiet Man, Miss Jones imagines what might happen if a similar Hollywood blockbuster was filmed in Ireland today.
She does so primarily through the eyes of two ordinary fellows employed as extras, cuddly Charley Conlon played by Jamie Beamish and angry Jake Quinn, Owen McDonnell. However, in order to fill out two hours and the imagination, each of the actors is then expected to play a dozen or more additional roles of both genders and from a number of nations.
This requires the skills of the very best of character actors with the ability to switch from one part to another in an instant. Cleverly, they build up the story through numerous personalities which rarely get in any way confused.
This is a tribute to director Indhu Rubasingham, who is soon to take over the running of this venue, as well as the writer and performers. It helps to have a subtle set design from Rosa Maggiora that is based on an attractive loughside backdrop that somehow takes on a dozen different images depending on Malcolm Rippeth's expert use of lighting. This is then supplemented by an effective soundscape created by David McSeveney.
The story starts off as a great bit of Irish blarney while our two Jack-the-lads make the most of their 15 minutes of fame. At the same time, they lust over that Hollywood goddess Caroline Giovanni whose every move is impeccably conveyed by the infinitely adaptable Beamish, equally at home as Michael Winner-like English director Clem and a grieving father.
The comedy gives way to tragedy as Jake's young cousin and protégé, Sean who represents youth today as he covers over the disappointment of perennial unemployment with a drug habit that eventually proves fatal after he fails even to get a job as an extra.
His actions give the play its title and change the mood after the interval when soul-searching becomes more important than dreaming of giving the starlet "one".
Now it is McDonnell who comes to the fore playing both the young victim and the relation who is forced to reflect on life. Eventually, the adversity leads to a somewhat melodramatic ending to ensure that the customers go home happy and inevitably recommending Stones in his Pockets to all of their friends.
Stones in his Pockets ran and ran, touring the world after its first appearance on the British mainland in Edinburgh and then at the Tricycle and there seems little reason to imagine that this enjoyable new production will not follow a similar path.
playing until 4 February 2012
Reviewer: Philip Fisher