Stoning Mary
Debbie Tucker Green
Royal Court Theatre Downstairs
(2005)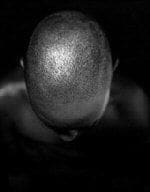 Debbie Tucker Green, who won the Olivier Award for Most Promising Newcomer last year, has written a disturbing new play that has undertones of Harold Pinter.
Stoning Mary may last for no more than an hour but it addresses serious issues and packs a mighty punch.
Ultz is fast becoming the Designer in Residence at the Royal Court and once again, he has ripped the Theatre apart, laying a stark stone floor painted pale blue over the stalls seats.
In the massive space stretching to the back wall of the Theatre, three feuding couples battle out their grievances with no immediate connection apparent. It is only right at the end that the missing link is provided.
The first battle takes place between Peter Sullivan and Emily Joyce, playing a thirtysomething couple suffering from Aids. Recriminations are rife and the playwright cleverly provides a kind of stream-of-consciousness narrative by introducing their egos represented on stage by Martin Marquez and Heather Craney. The pair's problem is heart-rending and terrifying as they have a prescription to keep an Aids-sufferer alive but only enough for one of them.
Cut into this relationship is that of an older couple played by Alan Williams and Ruth Sheen who bicker about who loves their lost son, a machete-wielding child soldier, the most.
The final pairing is the eponymous Mary (Claire-Louise Cordwel)l who is awaiting a very public death by stoning for killing a child. Claire Rushbrook as her sister is far from sympathetic, even when it becomes apparent that this crime is one of vengeance that might in many societies be regarded as close to acceptable.
The language is often naturalistic and Miss Tucker Green proves herself a poet of inarticulacy. There is a twist, since the play is seemingly set in a Caribbean or African country but the actors are all white, creating a strange sense of dislocation.
Like so much of Pinter's work, the impact results from showing actions that we believe only take place in faraway countries, as if they were happening in our own.
Director Marianne Elliott has drilled her cast well and produced performances that are all convincing, which cannot have been easy given the precision required. The only criticism is that in this odd space, some speeches can be close to inaudible.
Stoning Mary is a very short play that contains much food for thought. There is little doubt that it will help its audiences towards a deeper understanding of peoples that are normally only seen as victims in news stories. What is a moot point, that may well become the subject for debate, is whether the impression is enhanced by taking the story away from its native land.
Reviewer: Philip Fisher