Stop Messing About
A Kenneth Williams Extravaganza
By Brian Cooke and Johnnie Mortimer
Yvonne Arnaud Theatre, Guildford, and touring
(2010)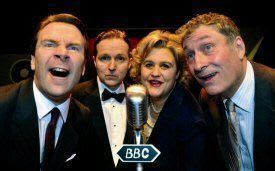 The untimely death of Kenneth Horne put an end to the popular sixties BBC radio series Round the Horne but, not wishing to abandon such a successful formula, it was decided to continue with the sequel Stop Messing About and give the public more of the same. This was an equal success, so much so that Kenneth Williams, the star of the programme, decided to take the show on the road and created the stage version which is now on a national tour.
You can be forgiven for believing that this might be true because Robin Sebastian is such a perfect facsimile that, should one be able to see the two together, one would be hard pressed to decide which was the original. From facial contortions to the nasal, braying laugh and the constant derogatory ad-libs with the audience, the resemblance is uncanny. Sebastian has obviously worked at the resemblance, and the fact that the original writers of the series are feeding him similar lines must be a help, but just the same, the feeling is that the man himself is right there in front of us.
Williams is remembered perhaps more for the Carry On series of films, and the other characters, being heard and not seen, are not quite so familiar but they make their presence felt in the best way.
Cherubic and innocent Charles Armstrong is endearing as Douglas Smith - the announcer with aspirations who has a nice little flirtation going with Joan Sims also a star of the Carry On films, and very well performed by the 'almost look-alike' India Fisher.
Acclaimed actor Nigel Harrison takes on the persona of Hugh Paddick and plays his roles almost straight, which make them all the more comical. His Sir Inigo Parchmutter, the ninety year old judge who thinks Legal Aid is a soft drink for lawyers, comments wisely that "Time flies like an arrow. Fruit flies like a banana", and his attempt to buy a pair of socks with 'salesman' Williams demanding more and more ridiculous identification is amusing with a tinge of apprehension --- could it come to this?
Fisher's short-sighted lady taking her driving test is a hoot, as is her Doctor Amanda Snatchforth answering medical queries, and Florence McWiddlemore on the piano needs no explanation!
"The Kingston, Surbiton, Wimbledon and District Line Trio" have a couple of comic songs - complete with gestures - and there is some fun with shadow-play, all performed in Liz Cooke's design of a BBC radio studio during a live broadcast.
Nothing is sacrosanct - political correctness has not been invented - and fun could be made of almost anything, and it's the mixture as before - some really groanworthy jokes, some very old jokes, some predictable jokes - and then something that really surprises and brings spontaneous laughter. The outcome is that that audience laps it all up, groaning, laughing, then letting out a roar of appreciation as something new and unexpected takes their fancy, and they always enjoy the audience participation, the ad-libs, and Williams' oft repeated catch-phrases "Isn't he BOLD" and "Infamy, infamy -- they've got it in for me".
And that's it folks! Nothing rude is said, and there is no swearing, but double-entendres and innuendoes fly around like a plague of wasps, matching Williams' waspish humour - and good time was had by all.
Touring to Mayflower Theatre, Southampton
Kevin Quarmby reviewed this production at the Leicester Square Theatre and and Steve Burbridge reviewed the touring production in Darlington
Reviewer: Sheila Connor