Storm.3 - Together And Alone
Mike Brookes / Simone deBeauvoir
National Theatre Wales
The Neon, Newport
–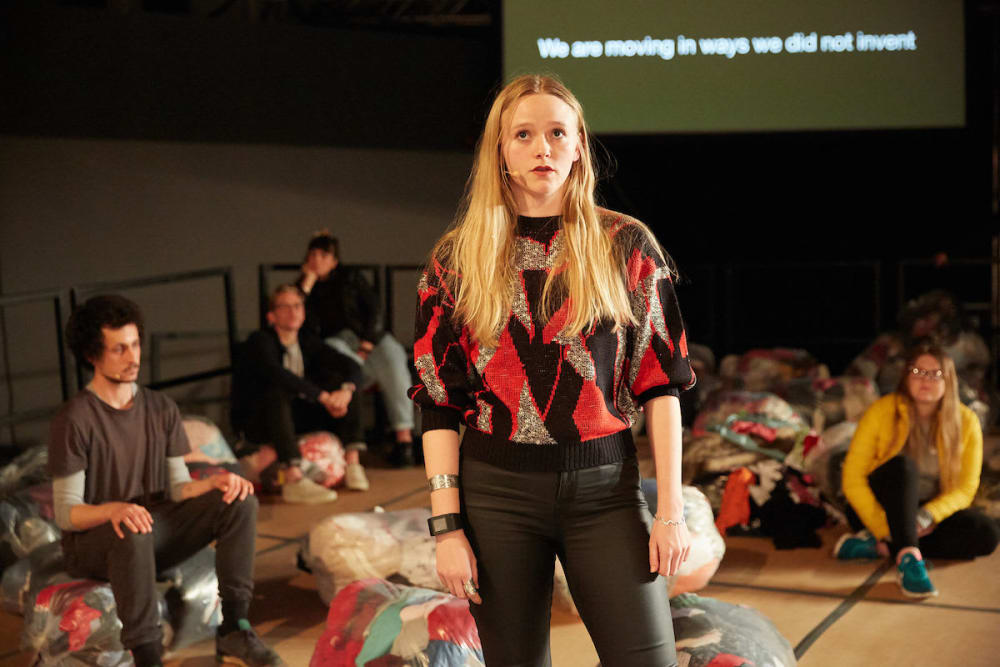 The work of Mike Brookes has been central to the output of National Theatre Wales throughout the decade during which the company has been in existence. In collaboration with Mike Pearson, his site-specific work has included Aeschylus' The Persians (with a Ted Hughes Award-winning rewrite by Kaite O'Reilly) staged on an unused military facility in the Brecon Beacons, Brecht's take on Shakespeare's Corialanus at RAF St Athan and an all-night (if one chose to experience it that way) interpretation of Homer's Iliad in Llanelli.
Brookes's Storm Cycle thus far has comprised a version of Ovid's Metamorphoses and a verbatim piece inspired by the 1919 Cardiff Bay race riots. Storm 3 has as its inspiration the work of legendary French feminist existentialist Simone de Beauvoir and takes over the main auditorium of an art deco former cinema in the heart of Newport.
We find ourselves standing around a largely barren space, the floor strewn with green recycling bags stuffed with old clothes. Screens on the wall display the phrase "We are putting ourselves first". Presently, the lights fade and the soundtrack, courtesy of Mike Beer and Tic Ashfield, kicks in: a low, electronic drone with a slow, insistent heartbeat.
A young woman wanders in and starts addressing no-one in particular, speaking about herself and her relationship to the world and her fellow human beings in discursive, questioning, elliptical terms. She delves into one of the bags and starts playing with items of clothing.
After a while, her segment comes to an end; the lights ebb, a cool wind blows around us, the soundtrack intensifies before fading, and another performer enters, speaking text from the same source, but in a slightly different modality. This repeats over the following hour or so, each actor having several monologues, only vaguely interacting with one another and audience members; meanwhile the onscreen text changes at regular intervals.
There are eight performers in all—Connor Allen, Justin Cliffe, Abigail Fitzgerald, Alexa Jones-Young, Zaru Johnson, Rufus Mufasa, Seren Vickers and Poppy Rivers-Vincent—all wearing microphones so that they remain audible to everyone even as they wander, and each of whom brings his or her own persona to bear on the material, whether uncertainty, cynicism or intellectual curiosity.
The text, drawn from de Beauvoir's The Ethics of Ambiguity, deals with issues such as personal freedom and ethical living, apparently from the point of view of someone who is quite detached from the world. Published in 1947, it was obviously written with Hitler and Hiroshima in mind, but Brookes seems to be drawing parallels with issues facing us in 2019—Brexit, climate change, etc. The script is dense, non-linear and not always easy to follow, although striking epigrammatic phrases leap out at regular intervals.
It is arguable that the central French existentialist trio of de Beauvoir, Jean-Paul Sartre and Albert Camus contributed more to the understanding of their ideas via their plays and novels rather than their philosophical writings; and Storm 3 makes no attempt to dramatise its hero/ine's moral quandaries. Nevertheless, one emerges at the end a little dizzier than before, but somehow anxious to hear more from its bemused and bemusing narrator.
This is a piece which assumes more weight as one reflects on in afterwards, without the distraction of having to suppress coughs while actors stand next to us. National Theatre Wales has been much criticised in recent months, but they are to be applauded for bringing together a talented, largely locally-based cast, in a stimulating, ambitious and puzzling (in a good way) production.
Reviewer: Othniel Smith