Stovepipe
Adam Brace
A HighTide Production in collaboration with the National Theatre and The Bush Theatre
West 12 Shopping Centre, Shepherd's Bush
(2009)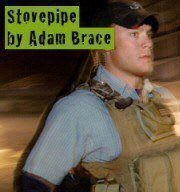 This production carries the combined weight of the HighTide Festival in Suffolk plus the Bush and National Theatres, so the promenade around the dungeons beneath an old-fashioned shopping centre in upwardly mobile Shepherd's Bush opened with great expectations.
Stovepipe sets out to recreate The Iraq Experience, going beyond multimedia in its attempts to involve visitors in life on the front line of that war ravaged country.
Where Black Watch followed one of the most distinguished British regiments, this site-specific piece goes much further downmarket to portray the lives of mercenaries in the country for cash and possibly in some cases, kicks.
The basement of the shopping centre has been transformed into 7 or 8 playing spaces around which the audience is expertly shuffled.
The initial welcome takes place at the Project Rebuild Iraq conference in Amman, Jordan. There, suitably oily types promote their businesses as contractors, or in common parlance, mercenaries.
The focus soon homes in on a trio of Brits like the archetypal joke, an Englishman, a Scotsman and a Welshman, with the last laugh on Griff, who is burned alive following a cock-up that seemed to owe everything to that 21st Century imperative, cost-cutting.
Adam Brace then tries to set these men into context, introducing the couple that run the "business", Christian Bradley as a maniacal South African soldier who has gone past his sell-by date and his beautiful but poisonous wife, chillingly played by the versatile Eleanor Matsuura who also takes every other female part.
A sub-plot follows (or falls to) the Scot after he goes AWOL, leaving behind their English pal Alan, excellently depicted by Shaun Dooley, to pick up the pieces and lead us through the murky underworld inhabited by these "consultants".
HighTide have created a meaningful and ultimately moving piece of drama that involves the audience to great effect and gives them an impression of what it must be like to earn your bread in a war zone.
Adam Brace also attempts to comment on the conflict and the country and while that might be a little less effective, he does raise awareness of the futility of an occupation that can leave a boy dead having committed no greater crime than pilfering four cans of cola.
This may not quite be Black Watch and can verge on melodrama but director Michael Longhurst and his designer, takis make the most of the space, creating not only the conference facilities but bedrooms, bars, streets and battlefields, building to a final scene in a funereal church.
Stovepipe is high class theatre that actually manages to live up to those raised expectations. Go and visit The Iraq Experience in W12. It will put you off a trip to the Middle East forever and might even help to bring about a withdrawal forever.
Reviewer: Philip Fisher