Street / Izzy's Manifestos
Susan Monkton & Kevin Jones
Spilt Milk Theatre
AJ's Coffee House, Cardiff
–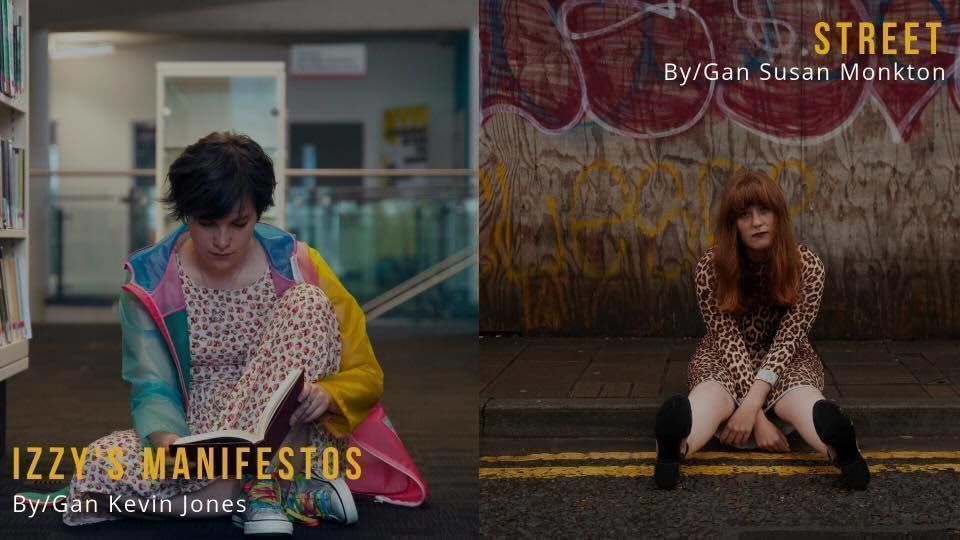 A few months after emerging company Spilt Milk brought us the troubling, 1960s-set Five Green Bottles, as part of the Cardiff Fringe Theatre Festival, they return with a double-bill of contemporary dramas, both monologues featuring protagonists who have little in common other than being young, female and, to some degree, in crisis.
Susan Monkton's Street starts out as one of the growing genre of "drunken nights out in Cardiff" plays, before morphing into something more pensive.
Ella Maxwell stars as Laura, whose evening begins with an incidence of inappropriate touching in a bar. This results in a sexual encounter with (unless I misinterpreted things) the guilty party, followed by a fractious phone conversation with her mother (who is both aware and condemnatory of Laura's hedonistic lifestyle) and the walk of shame, in her leopard-print dress, through town.
It is while she is wandering home that a horrific accident blindsides her and the fluent, profanely humorous first-person narrative breaks down as Laura struggles to make sense of a universe in which such things can happen.
Maxwell conveys both insouciance and trauma with great skill and commitment under the direction of Becca Lidstone, who manages to maintain momentum even as Laura's journey grinds to a halt. Nick Laws's sound design comprises an urban soundscape—sirens and beeping horns which merge almost seamlessly with ambient noise outside the actual venue—and white noise, reflecting the heroine's disorientation.
Street is described as a work-in-progress, and perhaps the second half of the script could do with some tightening up in order that Laura's incoherence doesn't risk losing the audience. And one does wonder if the late intrusion of an extraneous voice punctures the atmosphere a little. Ultimately, though, this is a compelling tale of a disrupted life disrupted still further.
The heroine of Izzy's Manifestos, the first of a three plays by Kevin Jones to be getting an outing in Cardiff this autumn, is a very different creature from Laura—ostensibly rather more organised and self-disciplined.
Angharad Berrow's smartly dressed Izzy strides into a performance area whose primary feature is a flipboard, and proceeds to give us an illustrated TED Talks style lecture on the subject of the ordered manner in which she has attempted to live her life from the age of seven onwards. Her NASA t-shirt speaks of an early ambition to be an astronaut, scuppered by her only average intelligence.
We follow her as, after suffering a bereavement during adolescence, she cheats her way into art-school (if only I'd known it was that easy) and, despite her judgemental nature and off-putting demeanour, manages to develop meaningful relationships. Once her studies end, however, and "real" life begins, it is time to attempt to fulfil her dreams, with or without either a concrete plan or the help of her loved ones.
Berrow is funny and counter-intuitively likeable as Izzy, delivering Jones's witty script with an engaging informality, and deftly incorporating glitches with the microphone into her patter. Luke Hereford's direction emphasises the humour inherent in Izzy's control-freakery and self-conscious behavioural randomness, with Nick Laws's sound design reflecting her lively fantasy life.
As her story reaches its climax, the floor is strewn with scrawled-on sheets of paper, suggesting the disorderliness which underlies Izzy's apparent self-possession. Because, as any politician will tell you, a manifesto isn't necessarily helpful in terms of coherent decision-making.
This is a cleverly programmed double-bill of 45-minute pieces, providing a multi-faceted and bleakly comic take on the problems faced by anyone confronting adulthood in a world of circumstances beyond one's control.
Reviewer: Othniel Smith