A Streetcar Named Desire
Tennessee Williams
Donmar Warehouse
(2009)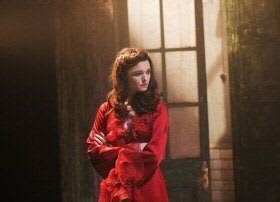 2009 will almost certainly be remembered for a stream of exceptional acting performances as the straight play struck back at the dominance of the musical.
Rachel Weisz, who is now renowned as a major Hollywood star, makes a welcome return to the stage as a younger than usual Blanche Dubois and gives a stunning performance.
It brings back her earlier stage work and in particular another brittle Williams' heroine in Suddenly Last Summer, opposite the late Sheila Gish. Now though, the actress is absolutely at the top of her game rather than merely highly promising.
From the opening, when Blanche appears, pale, frail but potentially feisty, it is hard to take your eyes off her for even a moment. That is not to detract from the other leading members of Rob Ashford's cast but a comment on his star.
For those who do not know the play (or its writer's style), Miss Dubois is an ageing Southern Belle reliving a past that never happened in an effort to forget the one that did. As she so aptly expresses it, "I don't want realism, I want magic" but life isn't like that for a small town schoolteacher beyond her sell-by date as an alluring beauty.
The drama takes place in the tiny two-roomed apartment of her long-suffering sister Stella Kowalski, played by another screen favourite Ruth Wilson, and her husband Stanley (Elliot Cowan) during the steamy summer of 1949 in New Orleans.
While the pregnant Stella is supportive beyond the call of duty, straight-talking, heavily-muscled Stanley has no patience for games that don't involve playing cards or sex.
He is a classic, insecure bear of little brain and a dangerous nature. Even so, when the chips are down, his beaten wife will always vote for that Streetcar Named Desire, the danger of overwhelming physical passion, over family ties.
While it might seem hard to sympathise with a delusional hypocrite like Blanche who likes to wind men round her little finger, when we learn of the traumas that beset the schoolmarm at sweet sixteen, it is hard to hold back the occasional tear.
This becomes even more of an effort as the play moves into its final tragic scenes, three gripping hours from the opening. Then, at last, the fading beauty (though this actress struggles to look dowdy) has to face up to her own past and a future relying on "the kindness of strangers" that it has made inevitable.
On an effective set designed by Christopher Oram, that is largely empty except for cheap furnishings that are carried in, a massive spiral staircase and ornate ironwork struts, Ashford's team draw the audience into the drama which is easy enough to do in such an intimate theatre.
It is too much to ask that Rachel Weisz will give up the megabucks of Hollywood forever but we can at least enjoy this brief sojourn back to the London stage, in a classic play that enjoys a well-deserved and well-judged revival at what is surely still London's hottest/coolest theatre.
One has to hope that there might be a West End transfer at the end of this run. If not, the returns queue will prove extremely popular.
Playing until 3 October
Reviewer: Philip Fisher