SubUrbia
Eric Bogosian, adapted by Peter Norgate
LOST Theatre
Southwark Playhouse
(2008)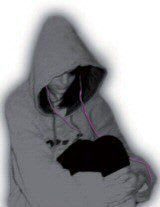 "Oh God, Oh God, This is Hell". SubUrbia's last line says a great deal.
Though billed as a play by hot American playwright and screenwriter, Eric Bogosian, best known for Talk Radio, the two hour version at Southwark Playhouse has been "anglicised" by Peter Norgate and seems to have lost a great deal in translation.
This nihilistic vision of young kids on the slide as American society plumbs its own depths should have real edge and excitement but does not. It is much more akin to one of those 80's Brat Pack movies without any of the glamour.
The problem is not only that none of these characters is likeable but they aren't believable either, with constant mood swings and behavioural inconsistencies.
The best thing about the evening is Mark Magill's ultra-realistic, grungy set, recreating a run-down, graffiti-blighted street, complete with Asian corner shop run by Rahim Galia playing Norman, a would-be architect from a wealthy Pakistani family.
The bane of his life are the bored kids who hang around outside drinking themselves into a stupor and insulting the shopkeeper for kicks. Throughout, one feels that these losers are children acting as adults and not doing it very well.
The worst of them is Tim, a bitter ex-RAF officer on the slide with a double portion of chips on his shoulder. However, jokey wannabe filmmaker Buff (Alister Barton) is little better, while their Uni-bound pal Jeff has his own problems to resolve.
Like their men, the girls who hang around, Sooze and Bee Bee, have self-esteem problems and the final tragedy is entirely predictable.
The one injection of life and humour comes from their old friend Pony, who has surprisingly become a pop megastar. Nicholas Dawkes gets closer to making this character convincing than most of his colleagues and accompanies himself on a guitar in a couple of enjoyable sub-Keane acoustic solos.
Pony brings along pretty little Erica in his limo, a rich slut of the first order whose only interest is in getting a bit of rough.
It would be good to see an authentic production of Eric Bogosian's play, to judge whether the problems here are down to him or Matthew Hahn's colourless production of the English version.
Reviewer: Philip Fisher