Subway
Matthew Lenton
Vanishing Point
Lyric Studio, Hammersmith
(2007)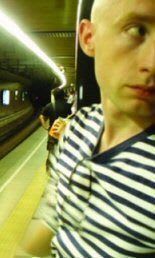 Vanishing Point's Subway is something really special. When it was first shown at Traverse 5 in Edinburgh in August, there was a great temptation to go straight back into the theatre at the end and watch it again.
At that point, during a particularly manic phase in the festival, it seemed to be a perfect production of a rather shallow story. A second viewing proves that judgment to be incorrect. This dystopian Scottish urban myth has allegorical depth, offering witty social commentary on the way that we live today.
The initial pleasure is visceral and has been significantly enhanced by playing in a much smaller space. Now the two actors and seven strong Kosovan folk rock band can really involve and eyeball their audience from start to finish.
The action takes place 25 years from now in Trainspotting country, at the foot of Leith Walk in Edinburgh. Change has been so fast that Irving Welsh would probably not recognise his home patch, even if the language and accents are straight out of his novels.
Sandy Grierson is the shaven headed Patrick Dougan, more familiarly known as Scruggs. He has lived down south (well, in Hull) for over a decade. He meets an old man, like all of the remaining characters portrayed by Rosalind Sydney, who suggests that it is about time to go home and commune with his father. Being "under-employed", he embarks on a journey into the past and the future, peace and revolution.
However, when Patrick gets back to Edinburgh, it is barely recognisable, his home patch having become a haven for yuppie doctors from the luxurious King William V Memorial Super Hospital. With places in private hospitals representing the peak of social grandeur, this is not Edinburgh as Scruggs or we would recognize it and the idea that the Euro will be the prevailing currency in quarter of a century might have some viewers spluttering with indignation.
Patrick's timing is perfect, as he arrives on the eve of a prospective revolution engendered by his old man, now living on the worst kind of Third World sink estate demonstrably proving the gulf between rich and poor in this futuristic city.
While Dougan senior knows how to talk things up, invoking the wisdom of Simon Bolivar, Marx, Engels and Al Gore, he falters at the final hurdle and it is Scruggs' old pal Puggs who carries things forward. She too injects poignancy into a drama that ends up with both tragedy and hope for a future in which capitalism and globalisation might finally be reined in.
The script may move along with the pace and explosiveness of an action magazine but it is packed with subtle touches that gently dig at current trends. Thus, we learn that George Clooney was "a pish actor but a great president" while the public smoking ban and Big Brother cameras controlling us all on the streets are merrily lampooned.
What takes an interesting if not sensational science-fiction story with overtones of 1984 and A Clockwork Orange into a completely different league is the production. Every step of Patrick's journey is accompanied by the talented band, who also step into the action at relevant moments. What ought to be an ordinary night out in an upmarket pub is given humorous life by the presence, loudly marked every time that she serves a drink, of " Flower, the fastest barmaid in Leith", while at times, the plot is accompanied what is practically musical onomatopoeia almost like having a team of additional characters.
Matthew Lenton does a fine job of integrating the exceptional acting talents of Sandy Grierson and Rosalind Sydney with the music and the intentionally gloomy atmosphere is enhanced by Kai Fisher's tremendously effective lighting.
Subway is a really exciting theatrical production, the sum of the parts significantly exceeding the whole. Uplifting and warming like the single malt that eventually brings father and son together, it cannot be too highly recommended.
Reviewer: Philip Fisher