Summer Again
David Cregan
Orange Tree, Richmond
(2004)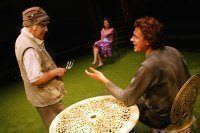 David Cregan has set out with worthy intentions. Summer Again is intended to be a play that addresses major political issues, the War on Terror and Globalisation, from an English family's garden.
The agenda can be set by the kinds of books that young Daniel, a writer who doesn't, carries around. No Logo, Food Nation and Camus' The Outsider say a lot about his own thoughts and those of Cregan, a man with a loud authorial voice.
There are major problems with the play that derive from a set of unpredictable and unbelievable characters. It features two feuding old women, three generations of a mad family and a smarmy right-wing Lothario.
The only "real people" are a wonderfully dotty 91-year-old grandfather, played by Robin Parkinson, who still dreams of global expansion into the garden next door, and young, working-class Joyce (Octavia Walters). She likes the wrong kind of man: first Daniel, class-ridden, selfish and suicida,l and then incomprehensibly, awful Gerald (David Leonard), fresh from Daniel's mother, Ariadne.
The affair between Gerald and desperate Ariadne includes elements of blackmail and farce, especially when her husband, Robert Benfield as Roderick, smiles benignly and uncaringly on their grappling in the hay. The relationship with Joyce is even less likely as she can relate to nothing that the pro-war right-winger stands for.
The love between the two youngsters fares little better and isn't helped by Daniel's prognostications, sounding like John Laurie's Private Fraser in Dad's Army - "We're doomed, doomed".
The politics are worth serious consideration but emerging from the mouths of these people they do not get a just hearing. The comedy misses far more than it hits. This is unfortunate as one of the best plays of recent years, Charlotte Jones' Humble Boy probably started from similar roots and soared.
Reviewer: Philip Fisher