Summer and Smoke
Tennessee Williams
Nottingham Playhouse production
Apollo Shaftesbury Avenue
(2006)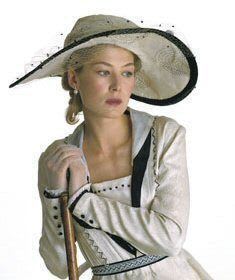 Do not be fooled. Summer and Smoke is far more than merely a star vehicle for unreasonably beautiful pair, Bond girl Rosamund Pike and Chris Carmack, male model and Luke from The O.C.
This is a typical Tennessee Williams exploration of passion and pain with the leads playing characteristic types familiar from so many of his plays.
Designer Peter McKintosh places a white stone angel upstage in a set that otherwise takes us to Williams' favourite American South in a town named Glorious Hill, circa 1916. Much of the action takes place in the town square or two neighbouring houses on its edge.
That Angel symbolises Miss Pike's Alma Winemiller, a nervy preacher's daughter who is placed on stage as a representative of the soul, the English translation of her Christian name from Spanish.
She is bowled over by Carmack as dangerously handsome Johnny, a doctor's son and thus representing the body in a partnership of opposites. Sadly, despite mutual attraction, they are mismatched and can never come together for any length of time, let alone eternity, a concept which is introduced in an introductory flashback.
Despite interest in medical research, dissolute Johnny, hasn't the patience to take over his father's practice and at the point at which we first see him, he is addicted to almost all of the devil's works - young women, alcohol, tobacco and gambling.
As he toys with Alma's affections, both families, not to mention most of the townsfolk led by the deliciously bitchy Mrs Bassett (Kate O'Toole), look on scandalised.
In no time though, Johnny is two-timing the innocent young lady, partying the night away and becoming engaged to a Mexican casino owner's daughter, Rosa played by Hanne Steen as a woman as loose of virtue as she is of limb.
This is almost enough to send Alma over the edge into a madness already enjoyed, and that is the right word, by her mother. Angela Down gives a brilliant supporting performance as Mrs Winemiller, a woman who has regressed into childhood and seems to be loving every ice-cream-licking second of it.
Summer and Smoke gains far greater depth after the interval as, first, Johnny's father is shot and then he and his would-be love begin to acquire some of the characteristics of each other, thus becoming more rounded.
Alma begins to find her own body at the same time as Johnny discovers his previously well hidden soul to the extent that he takes over from his father and cures an epidemic. This responsibility would be a real departure for the playwright, were Johnny not also simultaneously falling for a flighty teenager, much to his next door neighbour's distress.
Tennessee Williams does not go in for happy endings and it seems inevitable that this pair will go through life without ever finding true happiness.
Under the direction of Adrian Noble, Rosamund Pike gives a thoughtful and entirely convincing performance in what can hardly be an easy role as the unstable Alma, and Carmack acquits himself well as a less complex character.
This play, first seen in 1948 and filmed thirteen years later with Laurence Harvey, Geraldine Page and Rita Moreno, may not be Tennessee Williams at his very best but it is not too far off and Noble's worthy revival deserves to succeed.
Steve Orme reviewed the original production at Nottingham Playhouse
Visit our sponsor 1st 4 London Theatre to book tickets for Summer and Smoke
Reviewer: Philip Fisher