Superior Donuts
Tracy Letts
Steppenwolf
Music Box Theatre, New York
(2010)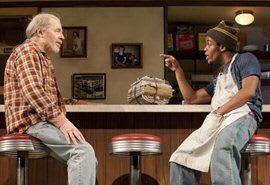 This is the funniest play that I have seen all year but also the most poignant. OK, it is 1st January but by the end of the year, Superior Donuts will, like Tracy Letts' last play August: Osage County, be recalled as a highlight.
Not only does Letts inject his own brand of comedy but the play is also suffused with a sadness that is almost heartbreaking and is clearly intended to comment not only on the two lonely men at its heart but also the country that has left millions like this.
While this writer has his own very distinctive voice, this Steppenwolf import from Chicago might be seen as a cross between August Wilson and David Mamet, both when on top form.
The setting is a shabby Chicago donut shop with echoes of an Edward Hopper diner. This is the domain and spiritual home of Arthur P, a second generation Polish immigrant, whose parents opened the cafe in the city's Uptown district close to the time of his birth almost 60 years before.
With a ponytail that features in an outstandingly amusing line and dreadful hippyish clothing, he looks like an ageing refugee from Hair just up the road.
We soon learn that Arthur, played with great wit and delicacy by former Spinal Tapper Michael McKean, is a private man. However, unlike his customers, the audience is privy to his vocalised interior monologues investigating a series of failures in almost every aspect of life.
In this way, we learn much about a beautifully written character who is almost literally scared of his own cowardice.
Two people help him to overcome the shyness and terror of commitment during a riveting two hours 10 minutes.
The first is a wise young Black man who has given up college to earn some cash. Jon Michael Hill gives a lovely performance as sassy Franco, a lover of life who has written an apparently outstanding autobiographical novel and makes the boss his project.
His first attempt is via a modernisation of the donut shop but, while that is a step too far, the attempt to persuade Arthur to make a move for Kate Buddeke's local cop lady Randy is at least welcomed as a concept.
Gradually, the two men bring the best out of each other and the only clouds on the horizon seem to be Arthur's difficulty in revealing his feelings and two big men who visit Franco with devastating consequences for all, leading to a battle for symbolic pride.
Colour is added by the character acting of Yasen Peyankov playing a larger and louder than life Russian immigrant who, by contrast with his friend, wears his heart permanently on his sleeve and rarely fails to raise a laugh with his strange circumlocutions and ideas.
What had seemed like a comedy in the first 45 minutes becomes a darker exploration of life amongst the working classes in Chicago, but also a rather wider view of our failures to communicate today and the human cost that results.
Director Tina Landau and her cast rarely put a foot wrong during a play that may not have the epic grandeur of August: Osage County but is of the highest quality.
Reviewer: Philip Fisher