Survivor
Hofesh Shechter & Antony Gormley
Barbican Theatre
–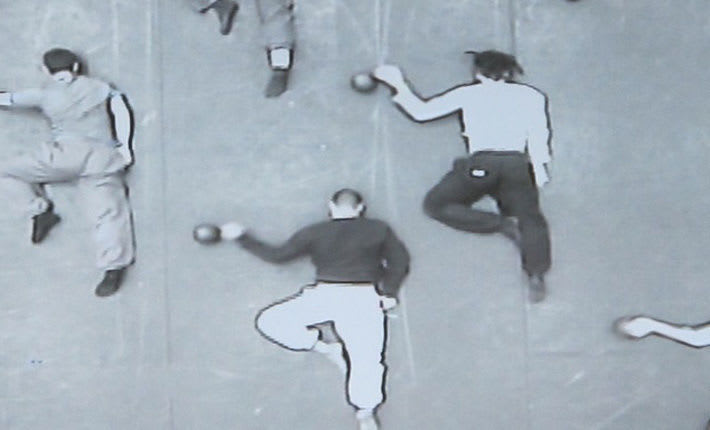 Israeli-born Hofesh Shechter, a choreographer and composer of formidable energy and ambition hit the UK ground running in 2002 and has not stopped since. A prodigious talent, he now teams up with sculptor Antony Gormley in a highly anticipated co-production, commissioned by the Barbican and produced by the Hofesh Shechter Company.
Gormley describes Survivor as "a work by Hofesh Shechter, interrupted and reconstructed by Antony Gormley."
Hunched tribal dance, and primeval sounds that reverberate in one's breastplate are Shechter trademarks, and the first ten minutes are thrilling: the full thrust of percussion, strings and electronica, whilst a man screams incoherently into a microphone. Is this Shechter exorcising his demons? All the while a man in white stands on a plinth facing him in silence—the survivor?
Concentrating on his musical skills rather than his choreography, Survivor has a new score by Shechter. Volatile, voluble, visceral, urgent and emotional, it is played live by his superb band of thirty percussionists and strings, under the direction of Yaron Engler (percussion) and Nell Catchpole (strings).
And Gormley has opened the Barbican stage to its full potential with raised side platforms for the strings and steel ladders to the heavens where the percussion reigns. He has also incorporated the safety curtain into the context of the piece, so that it becomes a giant Metropolis maw or a camera shutter by which light and our vision are controlled.
Hofesh Shechter calls Gormley 'a choreographer of space and emotion'. They 'share an interest in bodies in space', and Gormley says Hofesh is "a master of time, especially percussive time." For him it is "an adventure to work with the intelligent bodies of others within the emergent architecture of Hofesh's pulmonary music"…
Mutual admiration, but one wonders whether this is their hubris moment… have they over-reached themselves in a seventy-five minute production that feels like an unfocused, loosely-structured school concert or, in the words of my clock-watching sound engineer / music producer companion, "a glorified amplified full moon beach party"?
That sounds great, but without the benefit of mind-expanding chemicals one's attention wanders, as does this portentous pretentious rambling essay by two compatible creators, deep-thinkers both. Survivor jumps from thunderous percussion to screeching strings, from a hundred young community drummers in red (like Gormley's Field red clay figures) to a solo singer on acoustic guitar…
From video images of swooping starling formations, mountaintops, clouds, rolling seas, waterfalls (a live 'Gormley' body spins suspended from a steel line over it) and a dynamited tower block to five Sisyphean men rolling and clinging to cannon balls, running in military formation, one in contraflow…
A burrowing camera, a human mole… A man huddles in a white bath; a night vision camera is trained on the audience, their bleached images projected on to the stage screen, which then shows night flares across a dark sky, military hardware… Bodies fragile, abused, exploited, life is precarious in our cruel world.
Another camera looks deep into the pupil of an eye—into the soul? Random images, very 1960s, that go on… and on and on in self-indulgent confusion.
Our attention span and tolerance tested by Survivor's meandering formlessness, ultimately boredom and indifference set in despite the tremendous goodwill from the audience willing it to deliver on its promise. A freeform fall from grace…
In the programme notes, Gormley talks of "a sense of uncertainty", the body a piece of flotsam. We are to make of Survivor whatever we will, negotiate our own journey through it. One gets an uneasy sense that perhaps this is a premature outing for Survivor.
This hippyish hybrid mantra has its post-modern moments, but they are lost in the muddle of Shechter's troubled soul and damaged psyche crying like the muezzin into the wind. Man is alone on a desolate planet. "Antony and I are two lost particles in a universe of many particles—which are all lost as well"(Hofesh Shechter).
'An event' that brought out the movers and shakers of the Arts world, Survivor is an interesting, possibly over-intellectualized, 'experiment', probably still a work in progress, still 'flotsam'.
Reviewer: Vera Liber