Sutra
Sidi Larbi Cherkaoui / Anthony Gormley / Monks from the Shaolin Temple
Sadler's Wells
(2010)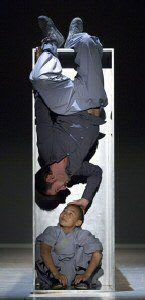 Many contemporary choreographers have looked to martial arts to enrich their movement vocabulary. Well, here we have the genuine article: seventeen Shaolin Warrior Monks from the Songshan Temple in Henan Province of China, directed by Belgian-Moroccan choreographer Sidi Larbi Cherkaoui.
An East meets West culturally enriching embrace, with design by Anthony Gormley, and original music by young Polish composer Szymon Brzóska.
These kung fu monks are no Bruce Lees, but that is not the point. This is a choreographed collaborative one-hour kinetic discourse on life's journey, a thread that links us all from Beckettian cradle to grave.
Cradles and graves Anthony Gormley's plain wooden open coffin-sized boxes, twenty-one of them, are more than that, more even than stage props or soapbox plinths. They are the very essence of the production, as well as perfect encasements for each man. His concept of body and the space it occupies or defines relates directly to the Shaolin monks' control over mind and body.
In a white gallery space, with the musicians faintly visible directly behind the back wall, down stage right on a silvery steel slab sit a man and a boy - Ali Ben Lofti Thabet reprising Sidi Larbi Cherkaoui's role (this is Sutra's third outing at Sadler's Wells), and a novice Shaolin monk.
The boy is transfixed as Ali demonstrates with his flexible fingers that which is taking place on the stage in real size and time. The puppet master, the guru, he is passing his knowledge on to the boy disciple. With toy size building block maquettes of the real thing, the boy arranges the 'coffins', as the action bursts out behind him. Then he runs off to participate - putting theory into practice.
Wooden rectangular cuboids metamorphose into table tops, wide open fields, hiding places, cascading dominoes (with the monks inside), a rippling Fibonacci sequence, mountain peaks, catacombs, catafalques, conveyer belt, barricades against the threatening world, the ramparts of a fortress, stelae, skyscrapers, boats (into which as many as possible cram - boat people or human traffic?), 'Stonehenge' temple portal gates, and the opening petals of a lotus flower.
And the burden or house we carry on our tortoise (MOMIX) backs. A child's game takes on life's significance. Fun to watch, too - synchronized formations, gymnastic balances, acrobatic kung fu with sabres and staffs, and gentle tai chi, the collective wonder of it all.
Mellow and fierce, slow and manic, in individual bursts and en masse power, at times they reminded me of Ohad Naharin and his Batsheva Dance Company.
Changed out of their grey kung fu outfits into black city suits atop their columns like Saint Simeon Stylites they survey the new world. Use sign language, and topple with their boxes, crashing to earth.
The dynamic is concise, the one hour just the right length to sustain Cherkaoui's intelligent inquiry into a martial form that intrigues him. It intrigues most dancers; how can it not? His assistant choreographer, performer Ali Ben Lofti Thabet, came to dance via kung fu.
There's a marvellous sequence where man and impish boy fit neatly like two peas in a pod into the one upended steel coffin space, framed by a spotlight, the rest of the stage plunged in darkness.
Boy's guardian Ali may be, but his is the onlooker's role, with a few witty Western illusions and tricks up his sleeve. He clowns walking down the stairs into his steel box - Buster Keaton - houses fall on top of him, his hand reaches out - rescue me.
Only at the end does Ali join in with the Shaolin group - he's earned his spurs. A terrific finale - very Hofesh Shechter - with an encore of sorts.
Brzóska's restive music, a soundscape that ranges from lyrical to ebullient klezmer, percussive rhythms and atonality, insinuates images into the brain, and Adam Carrée's lighting directs the gaze, though the visual creation and design is all Gormley's. Impressive and thought provoking.
It is amazing how potent and sophisticated child-like playful simplicity can be. Sutra has toured the world since 2008 and is still touring. Catch it if you can.
Till 26th March 2010
Reviewer: Vera Liber