Shirley Valentine
Willy Russell
Menier Chocolate Factory
(2010)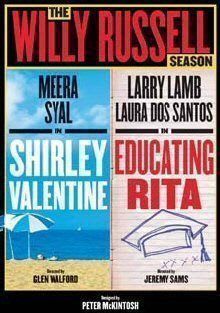 The revelation for anybody who only knows the film version of Shirley Valentine is that there is no hunky, Tom Conti-Greek figure to complement (and compliment) the heroine, an archetypal ordinary woman seeking escapism.
Willy Russell wrote his play as a monologue, delivered in this latest revival by Goodness Gracious Me star and sometime musical book writer and novelist, Meera Syal, whose main conversational partner is the magnolia-painted wall of her character's shabby kitchen.
The Menier have cleverly chosen to pair Shirley Valentine with another Russell play from the early 1980s that became an iconic movie, Educating Rita.
In this case, the play has not aged as well. The jokes are generally well telegraphed and hark back to the comedians of the era, now a very long way from the harsher stand-ups that followed and remain in fashion.
The story is simple. Liverpudlian Shirley Bradshaw (nee Valentine) is 42 with a pair of grown-up children and a boring husband.
Given the chance of a fortnight's respite from perpetual drudgery, she spends the first hour of the play vacillating about whether to take the plunge, talking to audience and wall in familiar comic fashion.
After the main interval, we hear about her idyllic time in the Greek Islands and smooth waiter Costas. From her sun-soaked beach, a more relaxed Shirley spreads lashings of her homespun philosophy and regales us with the joys of sex.
This is the stuff of a thousand TV sitcoms and everything about Glen Walford's production is clearly geared to devotees of the genre. The jokes keep flying, with smut increasingly prevalent, as our heroine enjoys her long awaited wish fulfilment.
There is a large constituency that laps up TV names in undemanding comedies and who knows, the occasional middle-aged visitor might even find this show literally life-changing. Surely Pauline Collins and especially Tom Conti must have persuaded the odd Shirley to head for the sun and the hope of meeting an available Greek waiter. The big question is whether it worked?
Howard Loxton reviewed the West End transfer at Trafalgar Studios
Reviewer: Philip Fisher