Swallows and Amazons
Helen Edmundson, music and lyrics by Neil Hannon, based on the book by Arthur Ransome
Vaudeville Theatre
(2011)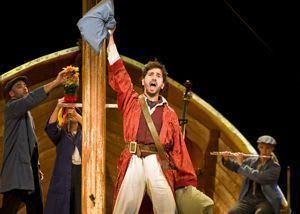 Swallows and Amazons is a good, old-fashioned family show in the best sense. Everyone from the enthralled 7-year-old sitting next to me to her great-gran is bound to enjoy the experience.
Tom Morris must have known that he was on to a good thing when he asked arch adapter Helen Edmundson to create a stage version of Arthur Ransome's classic children's adventure set in 1929 for the Bristol Old Vic last Christmas. With help from the National Theatre and the Children's Touring Partnership, he now brings it to the West End for a month, prior to a four month UK tour.
This is a ripping yarn centring on the younger generation of the Walkers, a sea captain's family with ages ranging from 7-12, allowing most children to identify with at least one family member.
Morris has cast carefully and then given each of his leading actors a genuine character to work on.
Richard Holt is mature John who leads the children on their brave sea journey on the Swallow to a neighbouring island where the fun really starts. Hungry Susan, charmingly played by golden-voiced recent stage school graduate Katie Moore, is a responsible mother in the making, while the pleasing Akita Henry's Titty is foolishly brave and jolly Roger eager to emulate his siblings. The incongruously bearded Stewart Wright makes the most of this latter role garnering more laughs than anyone.
Their piratical counterparts the Amazons, played by Celia Adams and Sophie Walker, are a little older and wilder and prove to be worthy opponents in a series of battles. These threaten to get serious when their literary (semi-autobiographical?) uncle, Greg Barnett's boyish but irascible, Captain Flint discovers that a chest containing an irreplaceable manuscript is stolen in a plot line that is never satisfactorily explained.
This allows the children and particularly brave Titty to come out on top and grow in maturity much to the delight of all present.
While the storytelling is exemplary, Morris ensures that there is far more to enjoy in this almost-musical that is probably better described as a play with Neil Hannon's songs. The Amazons get the best of these with their edgy theme tune a highlight, though our heroes' rendition of 'We Are Conquering Heroes' is rousing and 'Let's Make the Best of It' benefits from multipart harmonies.
The staging, cleverly designed by Robert Innes Hopkins, uses traditional methods with low tech props such as cormorants constructed from bin bags and parrots from dusters and secateurs. In the same Katie Mitchell spirit, a wind machine is as visible as the actor-musicians in removal men's garb. There is also an unforgettably portrayed shark attack to chill but not necessarily frighten the children.
The simplicity can be unexpectedly effective, never more so than with skeleton vessels tossing around on a sea consisting of nothing more than two ribbons—blue and white.
The central actors work as a perfect ensemble, clearly happy to enjoy each other's moments of glory. That is part of the pleasure of a feelgood show that will be a perfect treat for anyone seeking a happy family experience but tired of pantomimes.
Reviewer: Philip Fisher