Swamp Juice
Jeff Achtem
Bunk Puppets
Barrow Street Theatre, New York
–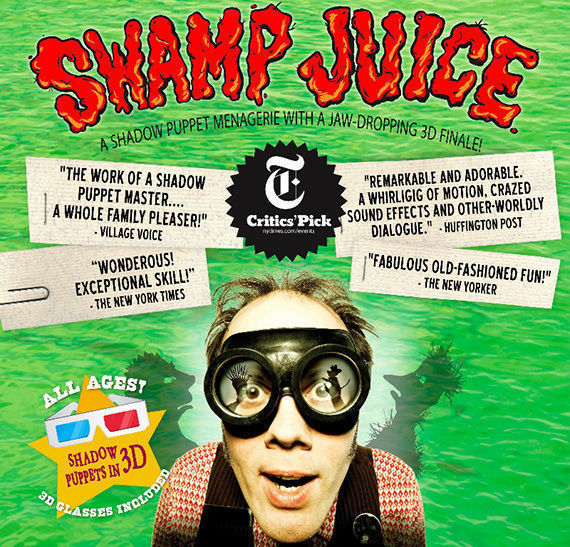 It is worth sticking with Swamp Juice. The initial premise sounds like the kind of show that you might wish to send the kids to rather than taking them.
It starts out on a littered stage as a clever puppet show, as one might expect from a company called Bunk Puppets. The characters are made from the assorted bits of seemingly worthless detritus strewn randomly around the stage.
These are manipulated and vocalised by an inarticulate, usually monosyllabic man who looks like a nutty professor—think Back to the Future.
What soon becomes apparent is that the kids in the audience are transfixed, even the tiny boy sitting behind your critic who very volubly wanted to be elsewhere until the lights came up.
They are amused and excited by a story about a bird and man in conflict that might owe something to cartoons. The method of delivery is the key, much of the early narration illuminated by very clever silhouettes that must have taken an age to perfect but justify the effort.
This is good stuff, peaking as the audience is asked to become involved in the creation of an underwater epic, and would have made for a pleasant enough hour that keeps the youngsters quiet.
However, the reason why Swamp Juice has conquered audiences around the world becomes apparent after cheap cardboard and plastic glasses are handed around.
Impossibly, the show moves into low tech but high class 3D, with men, birds and scary snakes and monsters jumping out of the screen and apparently attempting to assail the innocents ducking and diving in the auditorium.
These are the kinds of effects that movie directors sink $100s of millions into but were probably created on a kitchen table for the cost of a Sunday roast. You really do need to see the show and witness the unanimous audience reaction to understand how effective they are.
Auteur Jeff Achtem, who created and performs, is an Australian resident whose accent gives away his North American (Canadian) roots. To enhance the experience, there is an original score composed by Tristan Kelly, Nick Carver and David Henry of Melbourne band Manny Fox.
The impression that visitors young and old will take away from Swamp Juice is of a thrilling and enchanting evening that they are desperate to tell their friends about.
Reviewer: Philip Fisher