Swamp / Come, Been and Gone
Michael Clark Company
Barbican
(2010)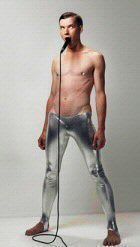 As I mentioned last year in my review of this programme, Michael Clark's production returns to the Barbican as part of bite10. Tweaked, sharpened, bits added here and there, Clark is the link between the Warhol era and the YBA Saatchi Sensation generation.
The art celebrity world is evident in the audience (Lucian Freud's daughter, YBAs and their mentors - reminders of his well-connected past and present), and Peter Doig's new paintings, descending from the flies, a portrait, a male nude, a lone man in a tropical landscape, are incorporated into the stage design. As before, this is a generous gig. Is the reformed junkie punk enfant terrible celebrating his 48th birthday?
He hasn't mellowed: a gnomic impish Brechtian presence in his own work, as if to cock a snook at our regard for his thrilling classical vocabulary and syntax. It all feeds into his evolving self-portrait. A grown man, unable to relinquish his youthful past, must go on revisiting it? Or is he Nosferatu, the blood-sucking creature of the night? Or a Faust making a pact with the devil? Did he sell his soul for his talent? He nearly trashed it. But natural talent he has in abundance.
His 1986 Swamp piece opens the evening again, and still sizzles with invention and confidence, his collaborative skills daring and embracing. Shape-shifting neurons, meteors, zodiac constellations, the dancers paint the mesmerizing sound before they crash to earth.
In the autobiographical Come, Been and Gone Clark's addictive past is laid out in the choice of music - Velvet Underground's Venus in Furs, White Light/White Heat, Heroin, Ocean. In Iggy Pop skintight silver pants and nipple guards, mass-produced mannequins or spacemen trip psychedelically against pulsating images and text on the backcloth - sexual, anal becomes banal
It is not re-energized by Doig's famous paintings, though another layer is added to the portrait's texture, but by his dancers, Kate Coyne, Melissa Hetherington, Oxana Panchenko, Nathan Cornwell, Simon Williams, and Benjamin Warbis, who are better than ever. Remarkable performers, they have a lot to get through in an evening that lasts over two hours. And they deliver - full on, intense, vigorous dance.
The new material uses more of Bowie's music (Sweet Thing; Candidate) - Bowie his hero, his life's guide? Cool, camp, and sexy. A ballet barre gives new meaning to pole dancing - horizontal pole dancing. In Bridget Riley-ish zebra optical strips (costumes by Richard Torry), are these exotic creatures from some otherworldly forest? Who then morph into Brave New World automata in two-tone beige and black one-pieces, and medieval thinkers' black cloche hats.
The music is brain bashing, trance-like, the robotic figures glide by, hips exaggeratedly thrust forward like catwalk models, arms and shoulders far back. Clark, the eminence grise, sits on a Dyson contraption. The sound crescendos - the white noise of planes' motors - an organ takes off.
Long pause and then the evening climaxes with Bowie's storytelling Heroes, Aladdin Sane, and Jean Genie. In black leather, then red silk unitards that glow like molten lava, the dancers, high-stepping thoroughbred specimens, devour the stage.
And Clark dances a solo in baggy shorts and sleeveless hoodie.
A thunderous electrifying evening of attention-seeking sound, stimulating visuals, and impressive fine-tuned focused dancers. Don't expect to be transported; expect to be jolted out of your seats.
Till 12 June 2010
Reviewer: Vera Liber