Swan Lake in-the-round
Choreography by Derek Deane
English National Ballet
Royal Albert Hall
–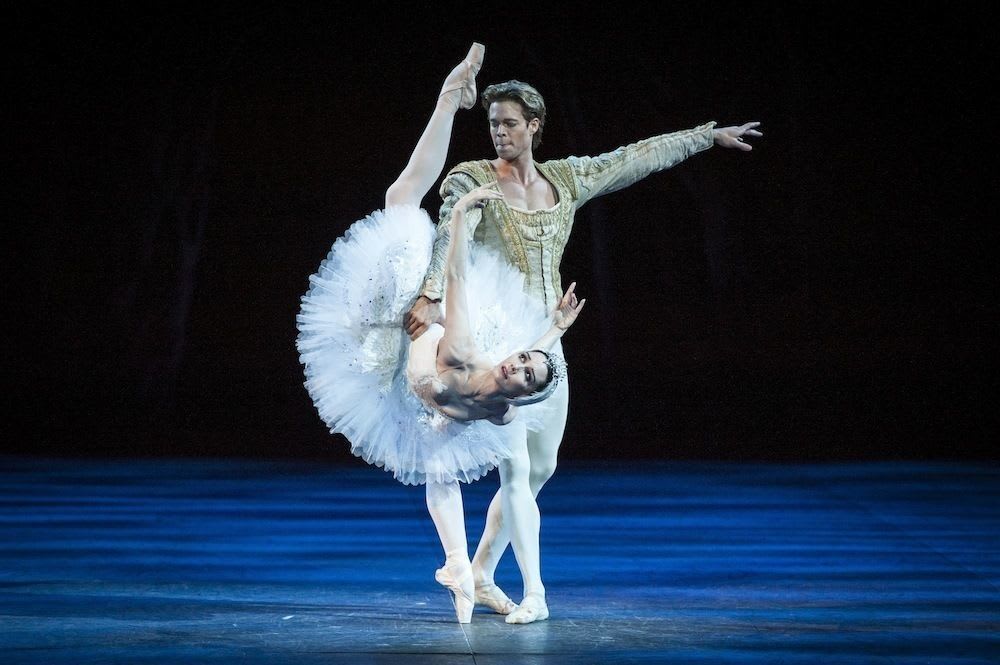 In its seventh season at the Royal Albert Hall, seen by nearly half a million people since its premiere sixteen years ago, Derek Deane's Busby Berkeley-fication of Swan Lake pulls in the crowds and has a special place in the heart of ENB's Artistic Director Tamara Rojo.
"I joined English National Ballet as a young dancer on the opening night of the first Swan Lake in-the-round in 1997. I had never seen anything so beautiful, and as I watched the rows of swans moving in unison, like a Busby Berkeley movie, I felt I was witnessing ballet reaching out to a fresh new audience."
Doubling up in size, one hundred and twenty performers in all, playing to four corners of the globe, Swan Lake in-the-round is a technical feat and a visual spectacle, but the beating heart loses out. And the orchestra, not in a pit under the dancers, but ranged far above them, is a distant sound.
The space is huge, the royal court a vast medieval hall that can hardly be said to be stifling the young prince. Jugglers, acrobats, children swell the ranks of this princely circus, waltzes, polonaises, fabulous costumes, lots of movement on stage, lots of ground to cover.
And unfortunately there's also lots of movement in the audience—a stream of latecomers throughout, even after intervals which are filled with friendly ice-cream hawkers—is this a night at the ballet or at a ball game?
Dry ice covers the lake, Rothbart flits about in his wide green cape under flashing lights; entrances are made up and down the stall aisles, dancers brushing past my shoulder. For the moment Rothbart sees off the soppy Prince, but tonight love will conquer evil in a happy ever after finale.
Amplified size—pas de trois becomes pas de douze, the four cygnets become two groups of four, and sixty white swans fill the circle—means amplified sound of pointe shoes hitting the deck. That must come as a surprise to those new to ballet, such dainty creatures making such a clumping sound.
Rojo, dancing opening night with guest principal Matthew Golding from Dutch National Ballet making his debut with the company, is the star turn, and turn she does, beautifully slowly as Odette in attitude pirouettes, fiercely in triple fouettés as Odile, a force to be reckoned with. The Prince stands no chance.
Brad Pitt lookalike Golding finally comes to life in his Act III solo: he has a lovely line, fine placement and graceful big leaps, matching Rojo's fire, circling the stage in grands jetés. Both are exultant—this is what the audience has paid to see.
The company dances with panache, especially in the czardas, mazurkas, and Spanish Dance, the rich colours of their costumes and the stamping of feet enlivening the space after the shaded silvery blue neutrality of the lake scene. Nancy Osbaldeston and Yonah Acosta flash briefly in the Neapolitan Dance.
But it is Rojo's evening. Her sustained balances are as amazing as ever, her control, her determination, her artistry and strong technique, command the vast arena. Golding falls before her Odette on his knees, seeking forgiveness, as well he might. A heroic pas de deux in swirling mist dispatches Rothbart, and the swan cohorts form a halo around the happy couple.
Chiming with her PC mission to take ballet to as wide an audience as possible, and the Royal Albert Hall holds twice as many as does the London Coliseum, this arena production of Swan Lake in-the-round does ballet both a service and a disservice.
Yes, as many as possible should be given the chance to see ballet at affordable prices, yes, ballet should lose its elitist label, but what this 3D Swan Lake gains in size, it loses in subtlety, nuance and the tender picture book magic a proscenium version offers. Across such a distance it is difficult to be beguiled, to lose oneself in Tchaikovsky's music and the ballet's romance.
Peter Farmer's set design does not clutter the stage, Howard Harrison's dappled and spot lighting hit the mark, and the eighty-strong orchestra under the baton of Gavin Sutherland take on the cavernous acoustics of the Royal Albert Hall.
There are fourteen performances in all. Rojo and Golding will be performing again tonight and on Saturday 15th and Tuesday 18th June.
Other couples taking on the lead roles are Vadim Muntagirov and Daria Klimentova, Dmitiri Gruzdyev and Fernanada Oliviera, Erina Takahashi and Zdenek Konvalina.
And 22-year-old former pupil of English National Ballet School, Laurretta Summerscales, will be making her debut appearance in the Odette/Odile role partnered by Arionel Vargas.
The programme notes tell us that ENB's founding ballerina Alicia Markova and her partner Anton Dolin were 'pioneers of arena ballet in Britain' in the post-war period. English National Ballet continues reaching out. Next summer they are promising to bring Romeo and Juliet in-the-round to the same venue.
Reviewer: Vera Liber