Sweat
Lynn Nottage
Donmar Warehouse
–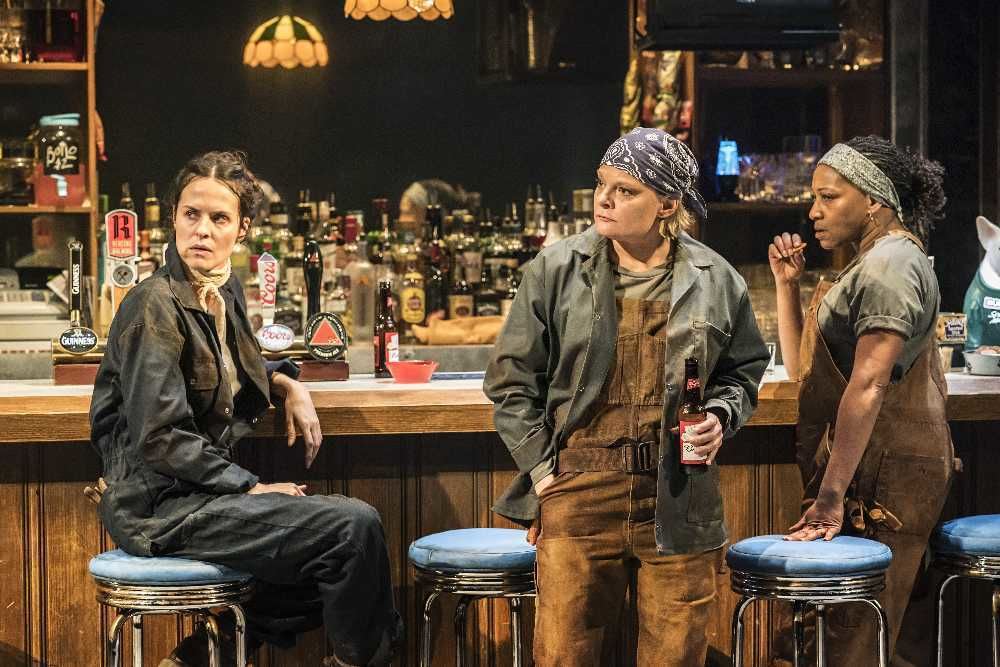 The Donmar has very much saved the best till last, presenting what is undoubtedly one of the finest new plays seen on the London stage this year a couple of days before the winter solstice.
Lynn Nottage has slowly but surely been building a strong reputation in the United States and, to a quieter extent, this country as well. Sweat is almost certainly her strongest work to date placing perfectly realised, blue-collar characters into believable situations that speak volumes about politics and race in the early years of the current millennium.
The uncompromising two and a half-hour long drama, directed by the Bush's incoming Artistic Director Lynette Linton, is set in Berks County not too far from Philadelphia and opens with what is effectively its own epilogue as two young men, recently released from prison separately meet their shared probation officer.
Patrick Gibson's heavily tattooed (with a swastika between his eyebrows) Jason is belligerent, while Chris played by Osy Ikhile has been Born Again in prison.
Initially, the pair seem to have little in common, although given their mutual animosity there is clearly some historical connection.
The action then flashes back eight years and moves into that relatively popular theatrical milieu, the bar. In Mike's Tavern, convincingly created for the stage by Frankie Bradshaw, a varied assemblage of depressed drinkers bare their souls in a fashion that has something in common with Eugene O'Neil's The Iceman Cometh and many other plays from this genre.
It takes time to discover the connections between three seemingly unconnected groupings, each patiently humoured by Stuart McQuarrie as long-suffering barman Stan.
First, we are introduced to a fearsome trio of women, all workers at the plant that dominates their area of the city, a working-class neighbourhood where no marriage ever seems to endure.
Best friends Cynthia and Tracey, respectively played with brilliant realism by British actress Clare Perkins and American import Martha Plimpton, talk tough, while their friend Jessie (Leanne Best) can barely lift her drunken head from the table let alone speak.
Next come the two young men, just as friendly as the leading women who turn out to be their parents. Finally, we get to meet Wil Johnson's Brucie, a sad loser who has been out of work for the best part of two years following a strike and management lockout. By this point, the uncomfortable relationships have become all too apparent.
What then unfolds is a fascinating plot that works on a number of levels. As George W Bush delivers platitudes from a TV behind the bar, his promises of a better life contrast with the experiences of the tavern's habitués.
Although, at one point, Cynthia becomes the first worker ever to move from the shop floor to a management office, soon enough she is faced with the kind of dilemma that breaks friendships and could even divide families.
Eventually, we learn why the young men landed up in gaol, as well as discovering the fates of their parents, in what turns out to be a sad indictment of the trashing of The Great American Dream.
To describe Sweat as a powerful play is almost understating the case, since it has the ability to reduce viewers to tearful despair as they contemplate the problems faced by these ordinary people a couple of decades ago. Many might also seek to draw parallels with the political objectives of the current President and wonder whether a similar fate might await many of those who voted him into office. As such, this is not only an insightful and gripping play but also a very important one.
Reviewer: Philip Fisher