Sweeney Todd – The Demon Barber of Fleet Street
Music and lyrics by Stephen Sondheim, book by Hugh Wheeler from an adaptation by Christopher Bond
Tooting Arts Club
Harrington's Pie and Mash Shop, Barrow Street Theatre, New York
–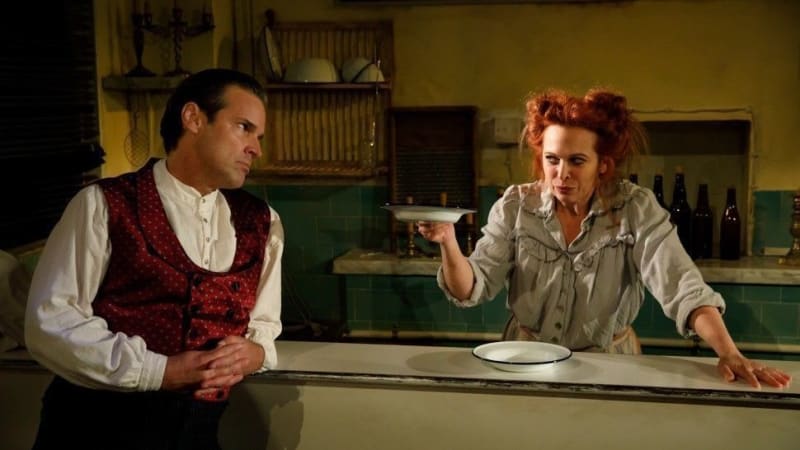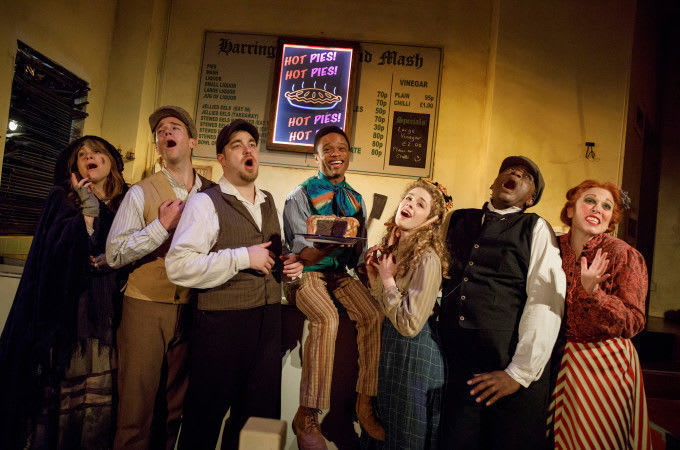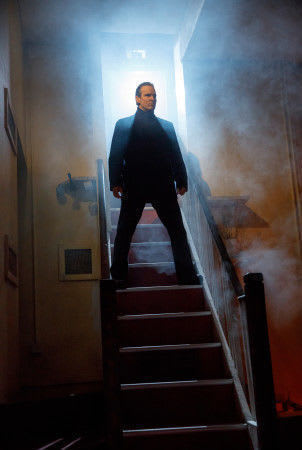 New Yorkers seem to dote on high quality British concept productions of what has become a modern classic of musical theatre.
A few years back, John Doyle brought a version to Broadway from the Watermill in Newbury, via the West End. The shtick there was that every performer was obliged to play a musical instrument as well as sing and act.
For this superb immersive production directed by Bill Buckhurst for Tooting Arts Club, Harrington's Pie and Mash Shop has been transported, lock stock and barrel from South London and lovingly re-created in Greenwich Village.
Immersive theatre can be gimmicky but the chance to sit in a pie shop (having enjoyed an optional pie and mash pre-show dinner) and witness the exploits of Sweeney Todd—The Demon Barber of Fleet Street and his partner in crime Mrs Lovett enhances the experience of a musical drama that is pretty close to perfection to start with.
For those wary of interactions between actors and audience, there is enough to make one feel involved but not get embarrassed. Guests may though find performers singing on their tables and brandishing cutthroat razors safely but in close proximity.
The Anglo-American aspects of this musical started early, in that Stephen Sondheim is a New Yorker, while Sweeney Todd hailed from London. Here, there are some pretty rocky accents and odd, anachronistic pricings and spellings on the pie shop's boards. Beyond that, everything else is spot on.
After numerous productions since the show first saw the light of day almost four decades ago and with a basis in historical myth, the plot should be well-known.
Benjamin Barker was a barber (men's stylist) in Victorian London. However, when Michael James Leslie's wealthy Judge Turpin fell for his wife, the innocent tradesman was transported to Botany Bay for life.
Returning many years later with a catchy pseudonym, he searches for his good lady and their daughter, discovering that the former has died and the latter, Johanna, become the judge's ward and prospectively a reluctant wife.
Sweeney's young friend Anthony, well-sung by Jake Boyd falls for the sweet-voiced Monet Sabel as Johanna. This leads to warfare with evil Turpin and his sidekick the operatically-voiced Beadle Bamford, John Rapson.
Meanwhile, our hero and heroine (give or take a couple of anti-s) fight off blackmailers and set up a highly successful pie business with a dark twist.
There is also a stream of glorious songs, which many will regard as among this star composer's finest. The pick are probably the title song, "The Worst Pies in London", "Johanna" and "Green inch and Linnet Bird", the last given a particularly fine rendition by Miss Sabel.
Over and above all of this, what makes the 2¾-hour production unique is the staging. Sitting in a pie shop and watching the story unfold within feet leads to an aura of involvement. It is also a chance to see stars up close. They are led by the suitably sinister long-term Broadway Phantom Hugh Panaro in the title role and Carolee Carmello, wittily unctuous as Mrs L, with great support all round.
This is one of those special shows that is unforgettable and about which people will be talking long after it closes. Do not miss out on an opportunity to share in a slice of Sondheim history.
Reviewer: Philip Fisher