Sweeney Todd, the Demon Barber of Fleet Street
Music and lyrics by Stephen Sondheim, book by Hugh Wheeler
Royal Exchange Theatre and West Yorkshire Playhouse
Royal Exchange Theatre, Manchester
–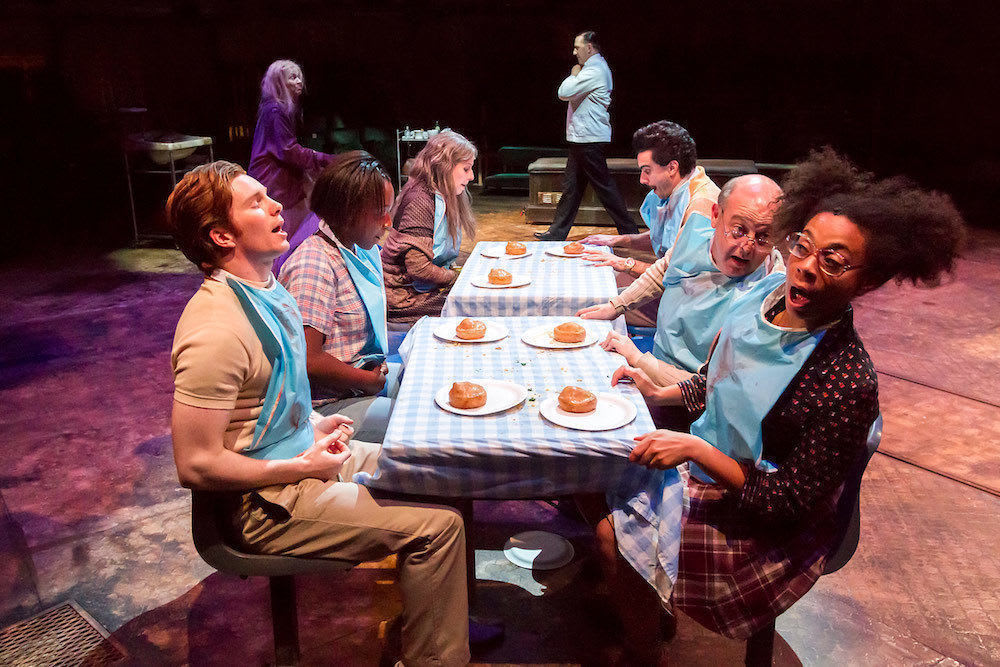 Peter Brook has a lot to answer for, doesn't he?
Since Brook's experiments with the ideas of Antonin Artaud culminated in his production of Peter Weiss's Marat-Sade nearly fifty years ago, we've had hundreds of student productions and the occasional professional one that begin in some kind of psychiatric institution, peopled by wandering, rocking, moaning, dribbling people who never engage with one another until they somehow contrive to put on a play.
So begins James Brining's production of Sondheim's masterpiece, which he took with him from Dundee Rep to West Yorkshire Playhouse when he recently took the helm and now transfers to the very different space at Manchester's Royal Exchange Theatre. However once those initial chorus voices cut through like a very sharp knife, it is easy to put aside any pointless concept and enjoy a very well-performed production of one of the greatest works of musical theatre—the musical equivalent of Macbeth.
The basic concept of the story is well-known, of a barber based in Fleet Street, London who murdered his customers while his neighbour Mrs Lovett put them into meat pies and sold them. Sondheim and Wheeler's powerful melodrama turns this into a tale of revenge for a man who was transported for life by a judge who convicted him only in order to steal his wife from him.
Todd's initial anger turns murderous when he is told that, after he was sent to Australia, his wife was attacked by the Judge, following which she drank poison and the Judge adopted her and Todd's daughter as his ward.
The daughter, Johanna, is now grown up and attracting the attention of young Anthony, Todd's shipmate, but Judge Turpin has decided he wants to marry his pretty ward himself. Anthony enlists Todd's help in rescuing the girl, not knowing that his co-conspirator is her father.
Brining has staged an unusually complete version of the show, with elements that are usually cut—such as the tooth-pulling scene, the Judge's self-flagellation through guilt at his sexual arousal and Beadle Bamford's turn at the organ—all restored. These were cut when the show was still originally on Broadway, so it's nice to see them again.
His production, and the design by Colin Richmond, looks as though it was created for the Exchange's theatre-in-the-round, despite some substantial re-working for its transfer from Leeds. Richmond says in the programme that the 80s care home setting is a comment on the Thatcherite era. It doesn't succeed in commmenting on anything and appears to show, at least in its Royal Exchange incarnation, a director who doesn't have enough faith in the material or feels he has to impose a superficial concept in order for his contribution to be noticed.
And it doesn't need it, because the production is extremely good, good enough, in fact, to allow the audience to forget the unnecessary paraphernalia and become absorbed in a tightly-paced production of a thoroughly absorbing piece of theatre with some wonderful performances.
David Birrell is a socially-awkward and quite loveable Todd who uses the intimacy of the space very well but is able to go for full-on anger against the world when needed. Gilian Bevan is a wonderful Mrs Lovett with great timing on the comic songs. Michael Peavoy gives a lovely performance as Anthony—who gets to sing the gorgeous melody of "Johanna"—with Niamh Perry as the object of his affection, also showing great comic delivery in the impossibly-fast "Kiss Me".
Don Gallagher is suitably commanding and corrupt with a resonant voice as Judge Turpin, with Sévan Stephan oily and nasty as his sidekick, the Beadle. Sebastien Torkia is a wonderful Pirelli, the rival barber, with Ben Stott as an appealing Tobias, his young assistant.
Perhaps most impressive is how such a small cast can produce a sound like a full choir, with most of the principals doubling as chorus to help. The impact of being suddenly blasted with Sondheim's unnerving harmonies by a full chorus in that small space is quite stunning. From where I was sat the mics were a bit over-amplified for such an intimate theatre and the band a bit muffled, but these are minor issues.
Overall, if you ignore the flim-flam of the concept and enjoy the performances, this is an intense, funny and impressive production of one of Sondheim's finest and most accessible works.
Reviewer: David Chadderton