Swimming with Sharks
Adapted by Michael Lesslie from the screenplay by George Huang
Pangdemonium
Drama Centre Theatre, Singapore
–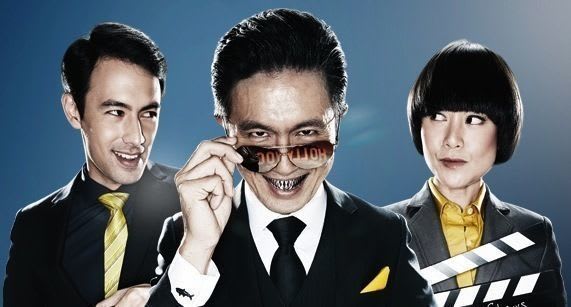 Pangdemonium 's production of Swimming With Sharks just closed on Sunday after a successful run at Singapore's Drama Centre Theatre, part of the multifunctional National Library, in the heart of Singaporean cultural district.
Based on the film with Kevin Spacey and written and directed by George Huang in 1994, this production revives Michael Lesslie's script that was produced in 2007 at Vaudeville Theatre in London and had Christian Slater playing Buddy Ackerman, the unscrupulous film senior executive.
While the London production received lukewarm reviews and seemed to be a bit hit and miss, the Singaporean revival by Singapore-based British director Tracie Pang cannot be more fitting and more engaging.
Swimming with Sharks is all about manipulation, deceit and ambition and offers quite a cynical view on the film industry, on how it all works in Hollywood. When Guy, a young graduate, joins this pool full of sharks, he is young, innocent and has dreams as well as a passion for watching and making films. Buddy, an old and savvy shark, has no morals or principles when it comes to competing in the industry.
Caught between veteran producer and career woman Dawn Lockhart (Janice Koh) and Buddy's relentless drive, Guy soon learns his lesson but can hardly cope with the pressure, while savouring success and more and more turning into a shark himself.
It is hard to say whether Buddy has a consciousness or not as his occasional heartfelt confessions soon reveal one lie after another. Dawn and Guy's relationship confuses business with personal affairs and we are not always quite clear whether Dawn is using Guy or indeed whether she loves him till the very end. She comes across as manipulative and controlling as all the others.
In a midst of twists, the ending is as cynical as it can get and it is Dawn who pays the price for it: as Buddy says at the start, the film industry is mainly full of male "sharks" and is no place for "chicks".
Other subthemes emerge: violence in the film industry as linked to real-life youth violence, questions about the morality of films, how the film industry has to compete with other media like YouTube and the Internet etc.
These all work well in the mix and make the story relevant and fresh to a present day audience; ambition here also resonates with greed, greed has so often made the headlines in current affairs and in the economic downturn.
Where there are big ideas at stake, the production never becomes mere caricature but is an honest satire of a greedy dishonest world. Tracie Pang's accurate direction makes sure that the main characters are fully developed with their weaknesses, obsessions and even their need for a human touch in the harsh reality of business.
Buddy's excellent interpretation by talented Adrian Pang—Tracie's husband and co-artistic director of Pangdemonium—is likeable because he has wit, intelligence and charm. Guy, also very well interpreted by UK-born George Young (Casualty) in his professional theatre debut, is believable in his gradual transformation.
Tracie also chooses to celebrate the film as an art form with video projections of classic film moments, which are shown throughout, highlighting key moments of the story. The innocence and beauty of the images work well in contrast with the amoral conduct of the characters.
Everything seems to fall into place in this production; the set by BAFTA award-winning and Oscar-nominated Ian Bailie (Atonement, Pride and Prejudice) is functional and elegant in creating two spaces and giving a sense of the hierarchal order of power in the play: Buddy's office upstairs and the rest downstairs.
The set adapts well to scene changes reproducing other spaces: a bar, a living-room etc. The panels in the background where the projections are shown as on a big cinema screen are incorporated well with the rest. There is so much elegance and taste in this production, even in the final torture scene, which is, nevertheless, gruesome and effectively poignant.
However, the biggest highlight of the show is Adrian Pang with such a perfect comic timing, with great presence on stage, with the charm that makes his characters so likeable and human. He indeed steals the show with such a fresh interpretation.
Andrian Pang has worked many years in UK and Singapore as an actor and is a local TV celebrity and, like George Young, he has been the host of many TV shows here in Singapore.
I really hope that, under the direction of his talented wife, audiences will see him soon back on the British stage.
Reviewer: Mary Mazzilli