Symphony
Ella Hickson, Nick Payne and Tom Wells
nabokov
The Vault
–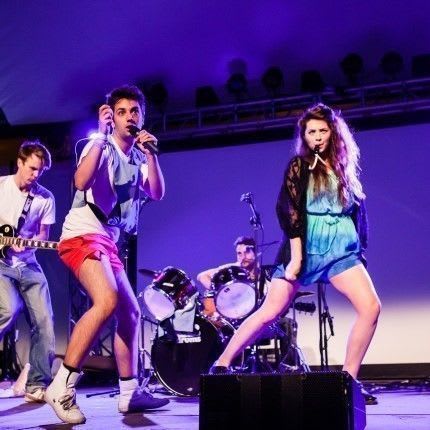 This hour-long performance is not so much a symphony as a solo aria and a couple of duets. It mixes some highly varied musical parodies played by a versatile rock-based quartet comprising Remy Beasley, Jack Brown, Iddon Jones and Adam Sopp, who also perform a trio of playlets, with storytelling and performance poetry.
Jonesy by Tom Wells
The opener is a limp comedy that has the quality of an episode of some children's TV drama.
It features an asthmatic Welsh lad surrounded by English pupils and teachers. For reasons of his own, he aspires to pass PE GCSE.
In between close encounters of the sporting kind, we observe his ineffectual efforts, which are peppered by ambulance trips to A&E.
A Love Song for the People of London by Ella Hickson
A Love Song for the People of London has a catchy signature tune and a very simple concept. A creepy guy stalks a lonely girl.
He imagines that love is in the air and it is but the happy couple is not quite the one that he would have chosen.
The comedy is at least a little sharper and the characters recognisable, if hardly fleshed out.
My Thoughts on Leaving You by Nick Payne
As one might expect from the writer of Constellations, when it comes to writing about flawed young love, Nick Payne presents the evening's best work.
This piece is a bittersweet affair that starts with a trio of mates out clubbing and follows the bearded one after he pulls in the men's smelly convenience.
The glory days flit by in no time, taking us to the end of the affair and rather wittily beyond.
The comedy and pathos are both realised more fully and enjoyably than in the first two playlets and, together with some complementary songs penned by Ed Gaughan, bring the hour to a satisfactory closure.
Reviewer: Philip Fisher