Taha
Amer Hlehel, translated by Amir Nizar Zuabi
Young Vic Maria Studio
–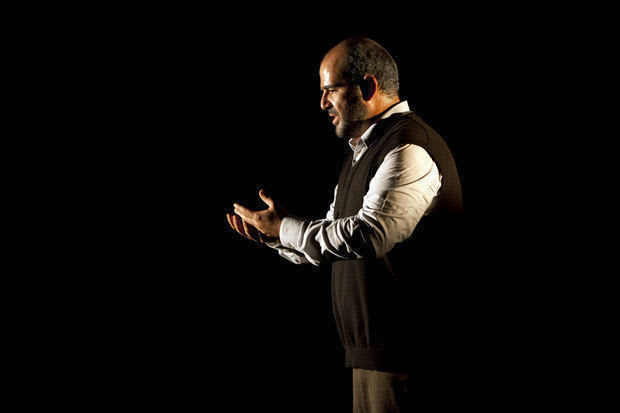 Taha is the Young Vic's contribution to the short festival, Shubbak: A Window on Contemporary Arab Culture, which then travels to Summerhall to form part of the Edinburgh Festival Fringe.
The 75-minute solo show, performed by the playwright Amer Hlehel and directed by translator Amir Nizar Zuabi, shines a light on Palestinian culture through the eyes of the poet Taha Muhammad Ali.
Delivered in English from a yellow square with minimal props, it tells a story of loss, punctuated by hope and humour.
It took a long time for the poet's parents to enjoy the pleasures of a growing son. This Taha was their fifth child but the first to survive infancy.
His early days advanced in the shadow of the Second World War, which had devastating consequences for Europe but also affected Palestine, which was divided up by the British mandate soon afterwards.
By then, because his crippled father was slowly diminishing the family's wealth to feed his children, Taha had to show initiative, turning himself into a successful merchant by the age of 10, starting out by selling eggs in distant Haifa, metaphorically a world apart from his home village of Saffuriya.
Long before even that, as a four-year-old, the boy was betrothed to his cousin Amira on her birth and remained devoted to her long after reason suggested that he should move on.
The first tragedy of the poet's life came when the village was bombed out, negating much of his moneymaking expertise and forcing the family to flee to a UN refugee camp in Lebanon. There, thanks to his commercial enterprise and the goodness of a shepherd, the family began to recover and thrive.
However, life in Palestine/Israel was never easy and, after Taha moved to Nazareth, he was frequently arrested for smuggling as rewarded for his efforts.
While never forgetting Amira, life advanced and the young bookworm became a poet, his simple but moving works recited throughout the performance in Arabic with English surtitles.
He even made it to Britain and a hilarious conference featuring poets from the Arab world.
Amer Hlehel has written and performs a touching and affectionate piece that can be viewed partly as an allegory about his people but also a simple but well-crafted biographical portrait of an ordinary man who made himself into something more.
Reviewer: Philip Fisher