Take Me to the World: A Sondheim 90th Birthday Celebration
Stephen Sondheim
Broadway.com
From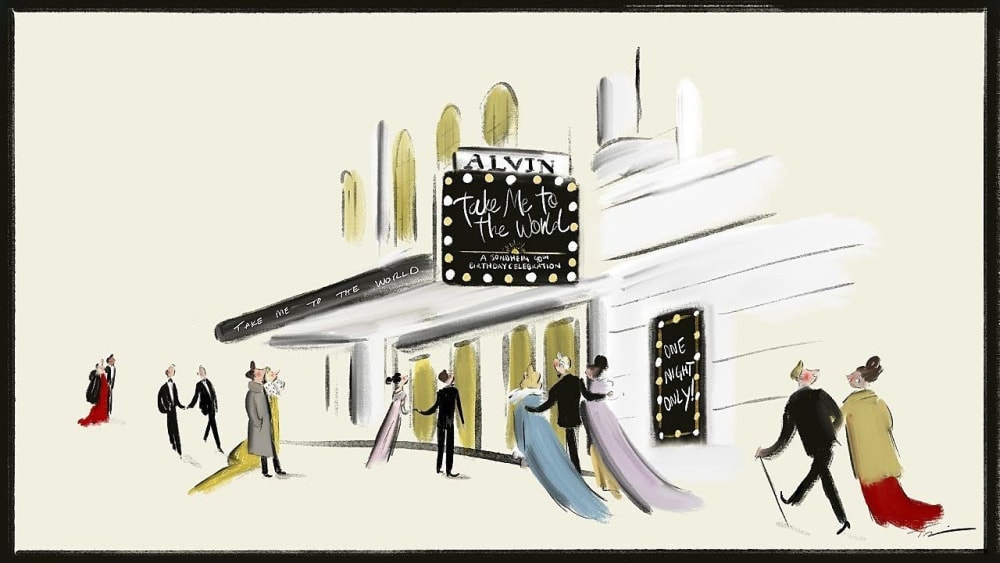 This is a free online concert of top Broadway stars singing their favourite Stephen Sondheim songs. I mean, do I need to say more? Oh, and you get to see into many of their houses—although some have put a sheet up behind them to stop us seeing too much of their real lives.
This was broadcast live on YouTube on a Sunday evening for New York, but this was the middle of the night on this side of the Atlantic, so I thought I'd missed it, especially when I went to see if it was available on demand the following day and YouTube told me the video had been removed. It was a week later when a colleague pointed out that it was now available.
This almost two and a half hours of pure Sondheim begins instrumentally with Stephen Schwartz, a pretty successful musical theatre composer-lyricist himself, at the piano for "Prologue" from Follies, before a group of isolated Broadway musicians—in one of those music and video collages that have become so familiar of late but are still just as impressive technically—begin the show proper with a bang with the wonderful overture to Merrily We Roll Along.
Everyone I'm sure will have different highlights, but I like Neil Patrick Harris's "Witch's Rap" from Into The Woods, Randy Rainbow's camp "By the Sea" from Sweeney Todd, with his selection of backgrounds, is great fun, Aaron Tveit gives a powerful rendition of "Marry Me a Little" from Company, Elizabeth Stanley's "The Miller's Son" from A Little Night Music is fun if a little prim, Maria Friedman—looking like she hasn't moved between her recordings of this and her contribution to Hope Mill Theatre's Some Enchanted Evening (which was released earlier the same night)—goes all coy for Broadway Baby from Follies before blasting out the biggest ending of the night, Lea Salonga presents Sondheim's answer to those who say he can't write a non-cynical love song by singing "Loving you is not a choice / It's who I am" as Fosca from Passion.
And there's more: Chip Zien goes back Into the Woods for "No More", Michael Cerveris presents Sondheim's brilliant philosophical musing on the nature of art in "Finishing The Hat" from Sunday in the Park with George, Linda Lavin's rendition of "The Boy From..." from The Mad Show is hilarious, Alexander Gemagnani's "Buddy's Blues" from Follies is a real showstopper, Josh Groban presents a double-bill of "Children Will Listen" from Into the Woods and "Not While I'm Around" from Sweeney Todd, Annaleigh Ashford and Jake Gyllenhaal give us a taste of the production that has just been officially postponed until next year in the West End with "Move On" from Sunday in the Park with George and "The Ladies Who Lunch" is turned into an unlikely trio by Christine Baranski, Meryl Streep and Audra McDonald.
There are also a couple of impressive contributions from 11-year-old "actor and theatre critic" (really—look him up) Iain Armitage and some smaller acting roles from Neil Patrick Harris's kids, who don't seem at all intimidated by his Witch.
There are some I was less keen on: as much as I love Mandy Patinkin and Bernadette Peters, I think their unaccompanied contributions—Peters in her house singing "No One Is Alone" from Into The Woods and Patinkin apparently standing in a park with his dog singing "Lesson #8" from Sunday in the Park with George—would have benefitted greatly from some musical backing, and I found Katrina Lenk's version of the beautiful melody "Johanna" from Sweeney Todd a bit on the weary side.
The audio quality varies a little depending on the room and mic placement, but is always good enough, and the screen sometimes goes black just long enough for you to think something has gone wrong before coming back.
But these are some of the top musical theatre performers around today singing some of the greatest musical theatre songs, and it's all for free, although donations are requested for ASTEP (Artists Striving to End Poverty). There's no doubt that for fans of serious musical theatre, this is a must-see.
Reviewer: David Chadderton