Taking Care of Baby
Dennis Kelly
Hampstead Theatre and Birmingham Repertory Theatre co-production
Hampstead Theatre
(2007)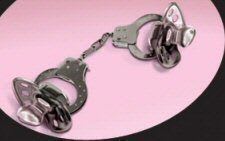 Dennis Kelly is a playwright who is not afraid to address the toughest contemporary issues. He also enjoys playing with theatrical form and on this occasion, his stylistic games can detract from a very important message.
Taking Care of Baby commences with an explanation on sixteen TV screens behind the actors that what we are about to witness is a verbatim drama using the words of real people.
We immediately cut into a tearful young woman Donna, brilliantly played by Abigail Davies under the direction of Anthony Clark.
As we gradually discover, she is talking about her experience in prison having been incarcerated following the cot deaths of her two infant children. This is heart rending docu-drama bringing to mind the tragic real-life case of Sally Clark, who was eventually released from prison but never really recovered from her nightmare.
Donna pours out her heart in a series of convincing speeches, which are split up by interviews with others, including her politically-ambitious mother, a councillor named Lynn Barrie. Ellie Haddington portrays a hypocrite who is ultimately happy to use her daughter's woes to further her own career.
The other key character is a psychologist Dr Millard, played by Christopher Ravenscroft. Like Professor Sir Roy Meadow, he put women in prison on the slightest of evidence. Worse, it is implied following his interrogation by a disembodied voice, that the illness that he used to convict them, Leeman-Keatley Syndrome, was his own invention created to boost a flagging reputation.
A third ambitious character, a tabloid journalist of the worst type, injects a little humour into the evening. This is a much-needed, when even Donna's husband, played by the same actor, Nick Sidi, believes that she murdered their children and broke all ties with the desperate woman.
What starts off as a serious investigation into an important subject, becomes subverted into an investigation of narrative form and eventually, gets close to comedy as Lynn Barrie moves into campaigning overdrive.
Taking Care of Baby lasts two and three quarter hours and, by the end, there is some doubt as to whether it is intended be an extremely insightful drama looking at the effects of cot death and possibly wrongful imprisonment or a technical game played by a playwright on his audience.
It falls between the two stools but might be worth a visit both for a different angle on a subject is constantly in the headlines and also the chance to see Abigail Davies in stunning form.
Reviewer: Philip Fisher