Taking Steps
Alan Ayckbourn
Orange Tree Theatre, Richmond
(2010)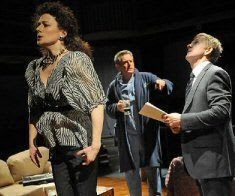 Sir Alan Ayckbourn may not always manage it but at his best, for example in The Norman Conquests, he is as funny as any writer living. It is a pleasure to report that Taking Steps sees him on top form and the only word to describe the experience is brilliant since anyone lucky enough to get a ticket will hardly stop laughing for close to 2¾ hours.
The setting for this mixture of social observation and farce, first seen at the Stephen Joseph in Scarborough in 1979, seems wholly inappropriate.
The play is set in a large house on three floors. Therefore, a staging in the round on a single level with barely room to swing a Kitty loses out on every count.
However, this is Ayckbourn and so all is not as it seems. In Michael Holt's impeccably designed set, three rooms are crammed into a cut-down space, leaving actors to spill over from one overlapping scene to another without tripping over each other. To make things work, the playwright, who also directs, has created the novel concept of the flat staircase, up and down which actors imaginatively clamber. This has to be seen to be believed.
In the best farces, the underlying story is hardly worth expounding. However, one of Sir Alan's strong points is his desire to point up trends in society through his characters.
The house is about to be bought by Roland Crabbe, a self-important bucket magnate played by Michael Simkins, who delights in very loudly telling people just how successful he is, as he plies them with booze. His wife, Anna Francolini's Lizzie, is a petite dancer who, three months into their marriage, is planning escape.
Her aide in this is brother Mark (Stephen Beckett), a man so boring that he sends everyone to sleep, including himself. His unfortunate fiancée, Emily Pithon's silent, forlorn Kitty, has the same instincts as Lizzie, seeking a new life but is literally blocked from running off.
That leaves the two outsiders: the first is Adrian McLoughlin as the mildly disreputable Bainbridge, the developer who needs to sell the house in order to stave off bankruptcy.
The other is a mystery, the writer having set up Matthew Cottle's Tristram as an enigma then neglected to explain why he is a solicitor who not only can't do his job but has trouble remembering his own name.
He however gets the hapless farceur's good luck with women, as the comedy reaches its climax(es).
This is one of the occasions where every cast member plays his or her part with delicate skill and perfect timing so that it would not be reasonable to elevate any above the others.
The intricate plotting will probably soon be forgotten but several of the characters and the consistent laughter will long live in the memory after one of the funniest theatrical evenings in ages.
Reviewer: Philip Fisher