Talent
Victoria Wood
Menier Chocolate Factory
(2009)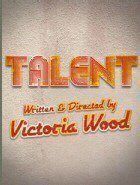 Talent is like an extended 1970s sitcom with songs. With the name of Victoria Wood attached as writer/director, that will tell prospective visitors all that they need to know.
If you love Acorn Antiques and dear Victoria and her pal of over three decades Julie Walters, this will be a heavenly experience.
This award-winning debut play was written by Miss Wood for the pair in 1978 and as director, she ensures that it feels totally dated in costume, song and comedy.
An opening scene shows us Julie, now played by Leanne Rowe, fresh out of her role as Baby in Dirty Dancing, topping the bill at Bunters Piccadilly, an aspiring night-club. She has hit the big time and knows how to patronise for Lancashire.
Magically, we are transported back a few years to her first faltering steps in showbiz, appearing in a talent(less) contest at the same venue.
From the safety of the dressing room, the tiny Julie, who looks as if she could become a ballerina but only after putting on a few pounds, worries and dreams. The wannabe star's straightwoman is Suzie Toase playing the author character, her overweight best friend Maureen.
They are clichéd chalk and cheese, the pretty girl with talent and the lump with zero charm or ambition. The jokes flow fast enough for some to miss completely, while comic songs change the tempo and allow all involved to show off their own talents.
While the girls await the big moment, they are serially subjected to sexual approaches from the sleazy compère, played by - of all people - a former Blue Peter presenter, Mark Curry.
The onstage competition is typified by a Tommy Cooper non-comedian played by Hi-De-Hi star Jeffrey Holland and his sidekick, the brilliant Mark Hadfield who doesn't even have the decency to get into his main character before stealing the show.
The star of Rookery Nook at the same venue in the summer returns initially as veteran Mary, all woman and all showbiz, who arrived at the venue during the war and in the ensuing 35 years has seen enough bad acts to sink a battleship. Hadfield then returns as Arthur, the comedian's reserve assistant with all of the best lines and gags.
Victoria Wood relies on the comedy of recognition, littering the script with the names of long forgotten products and personalities and supplements this with light songs and situation comedy with a little depth injected by teen pregnancy and the offer of sex for stardom.
If you are a Wood and Walters freak or hanker for a return to the era just before Lady Thatcher changed Britain forever, do not miss out. Otherwise, though there are a few good jokes, Talent could feel like a long 95 minutes.
Reviewer: Philip Fisher