Tanzi Libre
Claire Luckham
Southwark Playhouse
–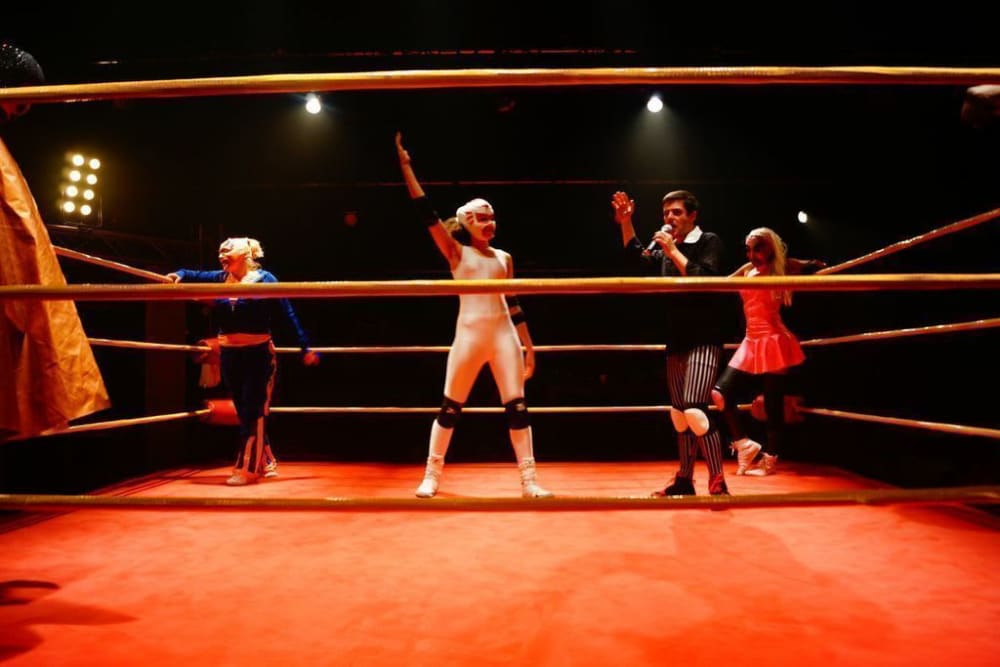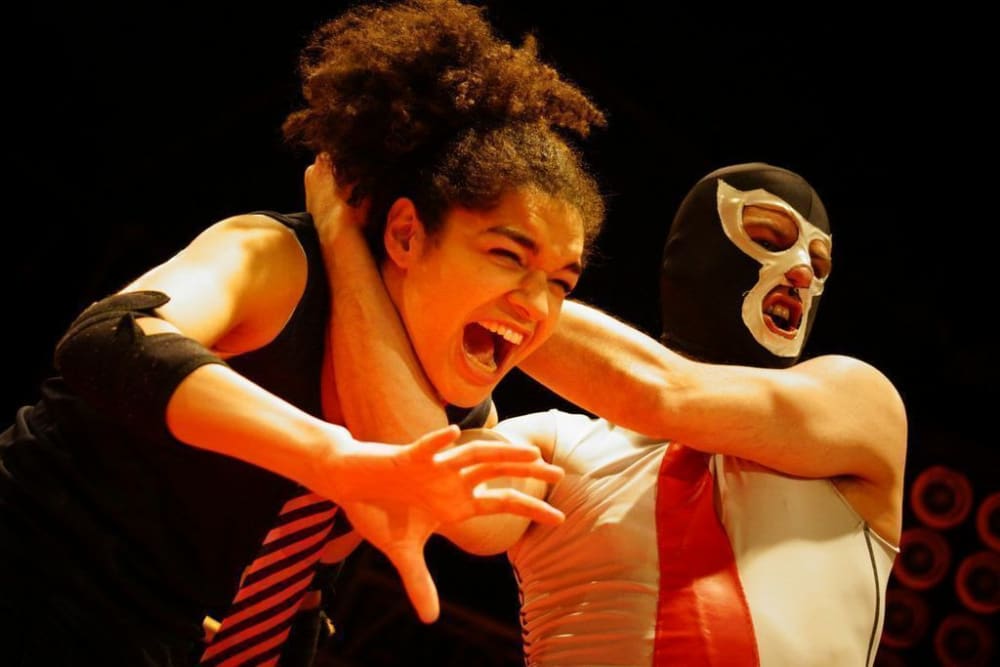 The London theatre scene is spawning new spaces on a weekly basis at present, as Southwark follows the Park with an opening, in this case of a building that is only likely to fill a five-year gap, while London Bridge Station is spruced up, along with its old space under its arches.
Trafford Tanzi was what this entertainment was originally called when it first appeared over thirty years ago. Those were the days when Big Daddy and Giant Haystacks held the British public in thrall every Saturday afternoon.
The drama chosen to open the third Southwark Playhouse is a determinedly populist revival, which relates the life of an ordinary young woman through the metaphor of the wrestling ring.
In this version, it has been updated to the days of WWE and WWF rather than the amateurish British equivalent, pepped up by music from live DJ, The Riddler and directed by Ellie Jones to mimic the spirit of a comic strip.
The 100-minute performance is held together by the talents of Mark Rice-Oxley as referee / MC. He has wit and verve, as well as the obligatory wrestling moves, at which each of the performers excels.
We have all become familiar with the stage concept of the Triple Threat in musicals. On this occasion it takes on a new third leg. While lead Olivia Onyehara acts and sings capably, her gymnastic abilities in a ring that fills the new theatre space just up the road from the Elephant and Castle must have got her the job.
Tanzi's harsh life story is always predictable with feminist overtones. We first meet a heroine originally played in this country by Toyah Willcox and on Broadway by another iconic rock star of the period, Debbie Harry (as Teaneck Tanzi) as a babe not so much in arms as the ring. Patricia Gannon as Tanzi's Mum is tough on the toddler and neither school friends nor Dad are much kinder.
Happiness comes in the form of muscular Kaseem Tosin Amore's Dean Rebel, who gives the girl a little wrestling baby of her own before two-timing with tiny Platinum Sue played with gusto by Meryl Fernandes.
The final countdown to marital harmony that ends the show can be spotted long before the end of the evening but will still fill fight-obsessed audiences with baying enthusiasm at the efficacy of Tanzi's trademark Venus Flytrap.
Tanzi Libre will appeal most to wrestling fans and those who do not like their theatre to be too demanding. It is well staged and some of the wrestling moves must be close to professional standard.
However, despite the energy of all involved, Tanzi Libre fails to engage the intellect, which is a missed opportunity.
Reviewer: Philip Fisher