Tao of Glass
Philip Glass and Phelim McDermott
Improbable
Royal Exchange Theatre, Manchester
–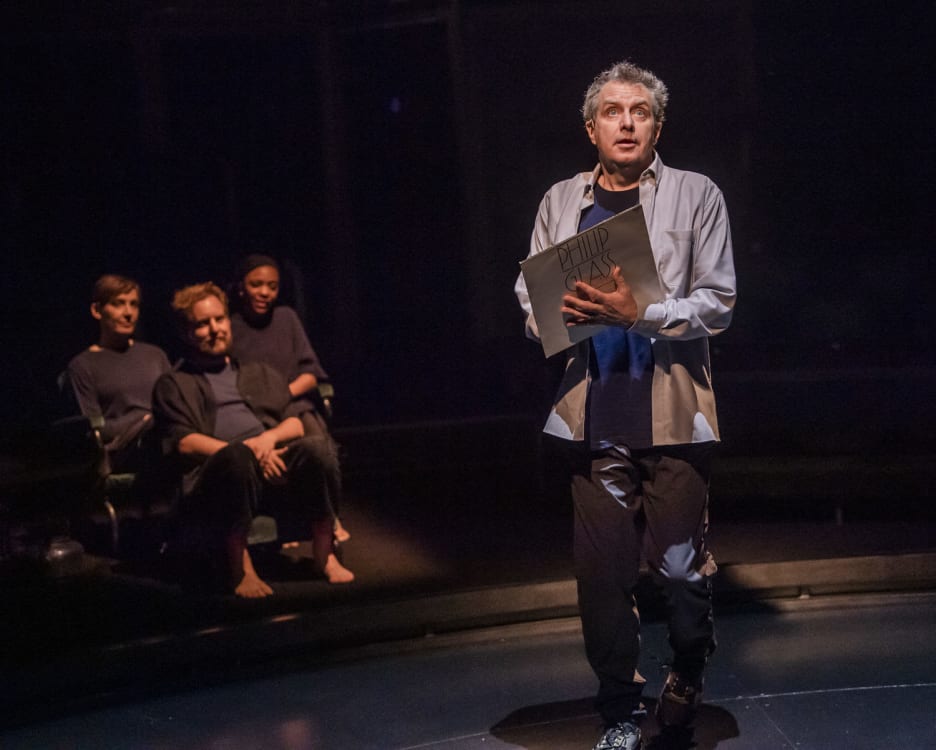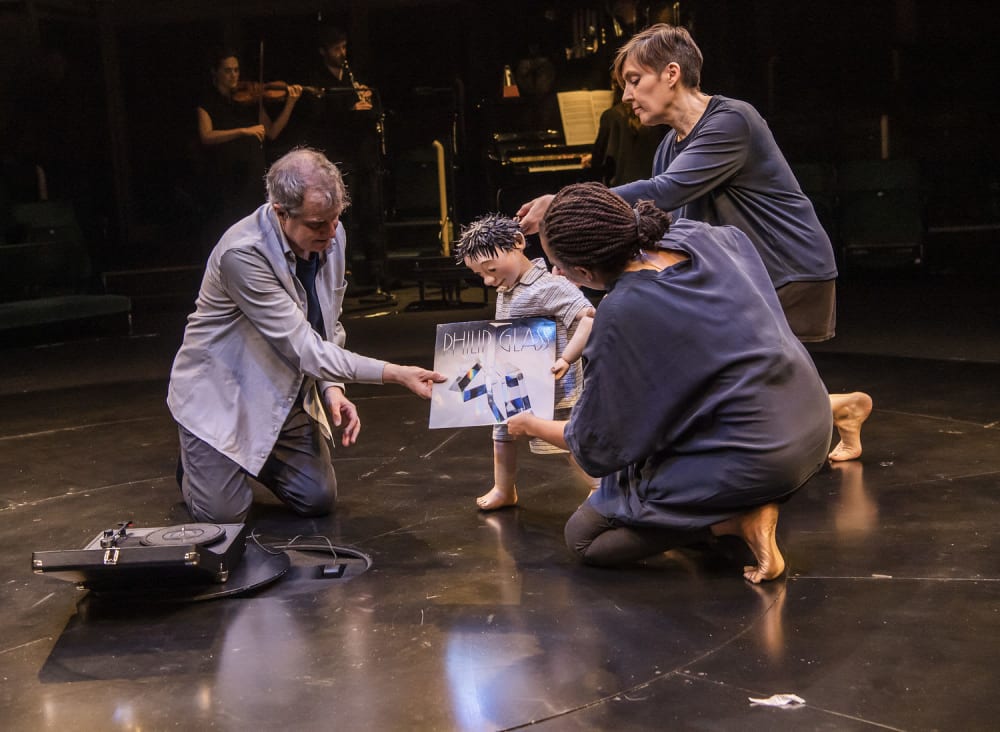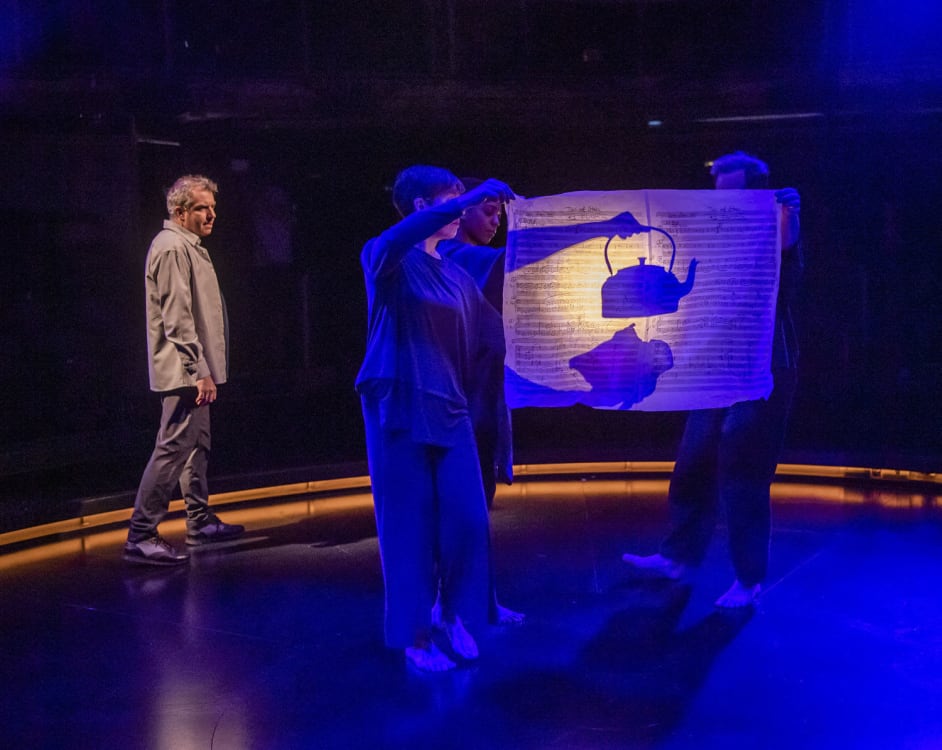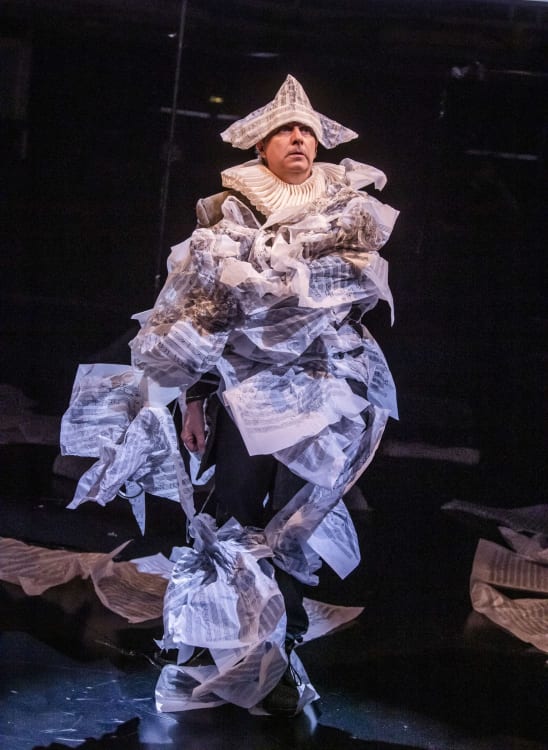 One of the things that has characterised this year's MIF is that many of its biggest stars are not actually present—Yoko Ono appeared on a big screen for the opening, David Lynch is represented by his past work and by events from other people influenced by it, Idris Elba only appeared publicly to help revive an audience member who had passed out and to deny claims of theft by writers who had worked on an early version of his co-creation Tree. Philip Glass, however, is an integral part of the story of this show, and Phelim McDermott finds ingenious ways to conjure him up, including puppetry, a modern version of the player-piano and a very special finale for press night.
The story of the show is the story of how the show came about, elements of which you may recognise from McDermott's presentation at the MIF launch in March and my later interview with him (both available in the BTG podcast). The show is a patchwork of stories, philosophies and reminiscences and, like the Japanese art of Kintsugi that is the subject of one of the stories, the ragged joins are highlighted rather than hidden. This is theatre at its most theatrical, what Peter Brook referred to as 'rough theatre', where stories come from thin air and everyday objects are transformed into characters and other worlds, and the fact that you can see how the magic is done doesn't make it any less magical. This happens to be in the Royal Exchange Theatre, but it could happen anywhere, in any empty space, without any technical trickery.
McDermott stands in the theatre he remembers entering for the first time at the age of 13 and being mesmerised by that magical space (as I was, although I would have been three or four years older), reminiscing about some of the great actors and performers he saw there, thinking that one day he may perform or direct for that stage—but he never did, until now. Then he is seven years old, represented by a puppet boy (designed and made by the great Lyndie Wright), recounting a traumatic tale of when he missed out on seeing Billy's Wonderful Kettle at Manchester's Library Theatre, so that for him everything in theatre now has to measure up to how wonderful he imagined that show to be. Then he is a teenager, obsessed with Philip Glass, then finally with a ticket to see Akhnaten at the London Coliseum, spotting the great man in the street and stalking him, wondering what he would say if he turned round.
This show was originally to be an adaptation of Maurice Sendak's In The Night Kitchen—he does a great impression of Sendak from their first meeting, whom he describes as "a grumpy, gay Oscar the Grouch"—and we see a short, wordless preview of what that may have looked like as puppeteers David Emmings, Janet Etuk and Sarah Wright manipulate a giant sheet of music as a shadow screen, puppets, lights and various pieces of kitchen equipment on a rotating stage to Glass's music. But Sendak died and the show died with him.
But then, while in a floatation tank—McDermott refers to himself as "a seasoned floater"—he has a vision of himself on stage with Philip Glass where he tries to find the secret of his creativity, this paralleled with the story of Lao-tzu and the creation of the Tao-te-Ching. Music manuscript paper comes flying out of the piano, taking on a vaguely human form, until a full-sized paper Glass is playing his own music.
McDermott performs the whole thing as an amiable stand-up comic, drawing you in with his constant good-humoured banter, switching from Japanese philosophy to childhood reminiscences to conversations between him and the composer to complaints about the company that demolished his garage (apparently this is what the title refers to, not Philip Glass at all). There are some profound contemplations about the nature of creation and creativity, but it's also a very entertaining piece of theatre.
The music is distinctively Glass, with its repetitive themes that develop almost imperceptibly, but these are mostly woven through the narrative, both enhancing one another. There are a few moments when we get to savour just the sparsely arranged music by itself, at one point played by an automatic Steinway grand piano programmed by Glass himself, accompanied by the musicians Jack McNeill on clarinet, Rakhi Singh on violin, Katherine Tinker on piano and Chris Vatalaro on percussion. Glass himself made a surprise appearance at the end of press night and played for us, but apparently this is unlikely to be repeated.
The whole thing is just a magical experience that should not be missed (I heard a few people with complaints about it that I really don't understand) and definitely, for me, the stand-out production of this year's MIF.
Reviewer: David Chadderton