The Tempest
William Shakespeare
Tara Arts
Arts Theatre
(2008)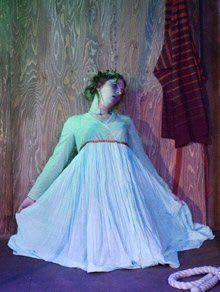 Shakespeare is back with a vengeance. This critic has now reviewed six productions of his plays, large and small, in as many weeks, admittedly including Cymbeline at the Lincoln Center in News York. This is an amazing statistic when one considers that there are sometimes gaps of several months during which London sees none at all. Long may it continue.
Each of these visions of the Bard has been worthy and fresh, although several have contained imperfections as well as areas where directors have experimented in ways that might not appeal to all visitors.
This cut-down, touring Tempest from Tara Arts is likely to both offend and delight. It will assuredly make those familiar with the play look at certain aspects in a new light, not least because it has an Asian slant that sees the island inhabitants dressed colourfully, with Miranda in a red hijab. This is dramatically and movingly drawn away on the line "I am your wife".
Although it only lasts around 1¾ hours without an interval, the cutting has generally been judicious, ensuring that the essence of Shakespeare's play has been maintained.
Visually, it cannot compare with big budget productions such as Rupert Goold's last year. The props consist of five multi-purpose ropes hanging from the flies, some long coloured ribbons and two wooden screens onto which low-tech films and slides are projected.
This puts a great deal of emphasis on Jatinder Verma's cast of only six actors, who (with the exception of Caroline Kilpatrick playing a female Ariel) all double parts. They do so surprisingly successfully, until a rather empty ending as we are forced to imagine additional bodies.
Prospero is notable as much for his age as any other trait, He is played by Robert Mountford, clearly the right/wrong side of 40 and looking even younger. Maybe this is part of his magician's box of tricks? In any event, it fits with his personality as a sadistic, hectoring control freak, who rules the island and its inhabitants with an iron fist.
He summarily sends Jessica Manley as his daughter Miranda to sleep when her presence is inconvenient and treats his two slaves, the benign, feminine Ariel, played with great heart by Caroline Kilpatrick, and the Swahili-speaking Caliban (Keith Thorne) with rude forcefulness.
While these relationships, along with the burgeoning love between dazzled Miranda and Chris Jack's handsome, shipwrecked Ferdinand are developed well, his lost compatriots do not fare so well.
As a result of the cutting, the noble Neapolitan visitors, led by Prospero's wicked brother Antonio and his King Alonso, feel underwritten and are not aided by the quick changes required in such a small company.
The comedy fares better, when Caliban teams up with a couple of likely lads, Tom Kanji portraying Stephano the would-be ruler and Trinculo, played by our Prospero in a novel piece of casting. These scenes get plenty of laughs as they should.
The soliloquies are well delivered, as one had been led to expect from this team of actors, all of whom speak with exceptional clarity, even when using a variety of accents.
This may not be a perfect production, ideally needing a visual pep up and some re-working around the scenes involving the shipwrecked Neapolitans.
However, there are some real attractions that override these weaknesses and make it well worth a visit.
The clarity of the speech, the real heart that can be seen to motivate the three leading characters, Prospero, Ariel and Caliban together with the versatility and energy of the performers are all commendable.
In particular, Robert Mountford makes a good, imperious Prospero who instantly becomes a comic Trinculo, while overseeing affairs almost as much as he does, Caroline Kilpatrick is a particularly sympathetic Ariel.
From 29th January, this production tours to Wolverhampton, Aberyswyth, Kendal, Tunbridge Wells, Swansea, Darlington, Buxton, Hexham and Kingston.
Howard Loxton reviewed this prduction at the Tara Arts Studio
Reviewer: Philip Fisher