Tartuffe
Molière in a new version by John Donnelly
National Theatre
Lyttelton Theatre (National Theatre)
–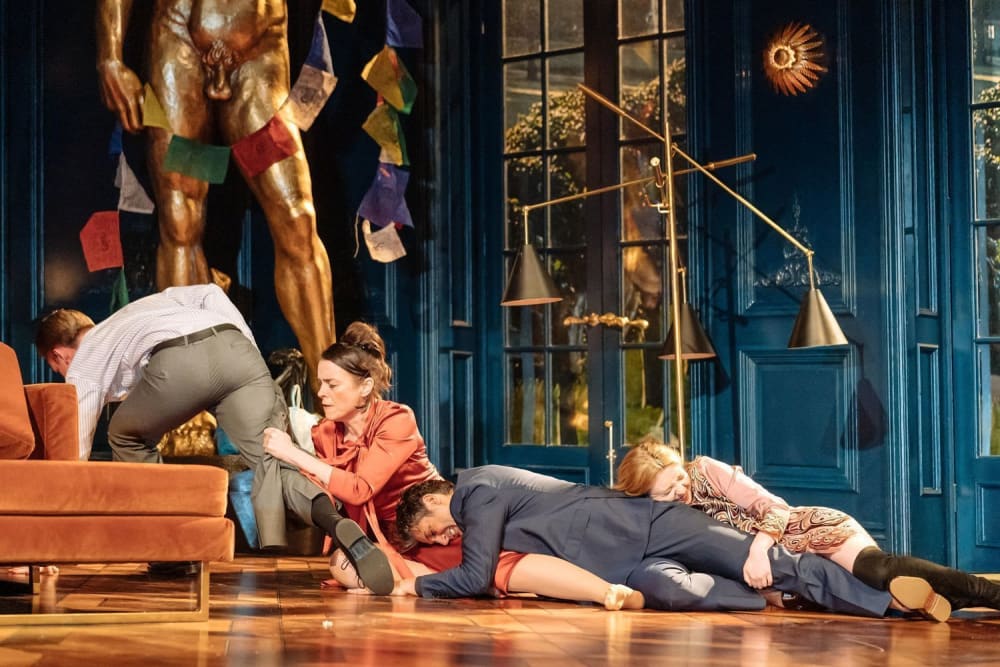 The pride of the Comedie-Française, Molière is generally accepted to be one of the greatest and funniest playwrights who has ever lived.
It therefore seems strange that London's largest theatres seem to have issued a hidden collective edict that whenever his plays are revived, directors and translators / adaptors must bring everything up to the current day and replace most of his funniest lines and stage business with their own.
That is the policy followed by John Donnelly and his director Blanche McIntyre in this new version of Tartuffe.
Designer Robert Jones has created a lavish living room, deliberately mashing together a series of disconnected cultural icons, everything from an oversized Greek bronze through a tortured saint (Sebastian?) who keeps changing colour to post-postmodern, symbolising the multiple conflicts in the family of twitchy, deluded Orgon, Kevin Doyle playing a retired captain of industry although you would not know it from the character's behaviour and mannerisms, which would be more suggestive of a village idiot.
After a brief comic turn from Susan Engel playing his outrageous and outraged mother, the family gradually appear and introduce their stereotypical roles.
Without any obvious logic, the most practical are American second wife Elmire and her philanthropist brother Cleante, respectively and equally impressively played by Olivia Williams and Hari Dhillon. When help is needed, the calmest head of all is that of Dorine, considerably more than a typical servant as portrayed by Kathy Kiera Clarke.
The younger generation are represented by sitcom clichés. Kitty Archer is Mariane, a twittering, hand-flapping ingénue in love with a wealthy poet given to loud pontificating. Enyi Okoronkwo is her brother Damis, a simpering fool who seems to have missed out when brains were distributed.
Running rings around the whole damn lot of them is American actor Denis O'Hare as titular Tartuffe, a "10 a penny charlatan" masquerading as an unwashed holy man with affiliations to Christianity, Buddhism and anything else that will make him rich.
For reasons that are not apparent, his accent is a lisping variation of Spanish, meaning that he can milk the jokes while sounding like Manuel from Fawlty Towers, making a good foil since Orgon has a tendency to rush around expostulating like dear old Basil.
Rather than French sophistication, the comedy in this two-and-a-half-hour-long production tends to be a blend of British sitcom and farce, utilising age-old but intermittently funny jokes and situations that make the most of the updating to 21st-century Highgate a few miles up the road from the National Theatre.
As such, this is the kind of show that will potentially have significant appeal—but probably not to fans of the late, great French genius Molière.
Reviewer: Philip Fisher