A Taste of Honey
Shelagh Delaney
Salisbury Playhouse
(2008)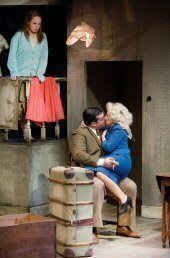 Salisbury Playhouse is celebrating the 50th anniversary of Shelagh Delaney's A Taste of Honey, among the earliest of 'kitchen sink' plays, with a fine production by Mark Powell.
And since, whenever the black and white film which sent Rita Tushingham to stardom is remembered, it is with the evocative sound of a small band playing tunes familiar in the late '50s, this Salisbury revival comes with a three-piece band and melodies popularised by Gracie Fields and George Formby.
In those now distant days, Fields was still delighting millions with her radio series Gracie's Half Hour and Formby, in his veteran years, was starring in a new musical at Manchester Palace Theatre, Zip Goes a Million.
Then, however, Delaney's bleak canvass of crumbling, post-war Salford, was as gripping as anything seen in colourful Coronation Street today.
Whether, without the music, Powell's production would rivet us in our seats today is another matter. The age of 'kitchen sink' is long gone and one would advance many shows for revival ahead of A Taste of Honey, let alone the first of the breed, Saturday Night and Sunday Morning!
A 50th anniversary however, is a good enough reason for revival, together with the fact that Playhouse Artistic Director Philip Wilson has a flair for reviving long lost plays of the likes of Priestley and Ayckbourn.
Let's remember Delaney's play attracted a distinguished line of players on its journey from stage to screen - Avis Bunnage, Joan Plowright, Dora Bryan, Nigel Davenport and Robert Stephens amongst them, not to mention a young Hazel Blears later to become Cabinet Minister, who played an urchin!
Not that the present Salisbury Company don't acquit themselves with distinction. Without exception, they do 'common' to perfection with the result that their Manchester is to the manner born.
In fact, of course, it is Salford, pre-Coronation Street but post Manchester Ship Canal with the smog and smell which Delaney knew so well.
Helen Sheals is a splendidly coarse mother and it is no wonder that, against this competition, Jo, excellently played by Sarah Ridgeway, has developed a voice that would sharpen knives.
Wela Frasier is Willie, the black sailor whose passing interest lays trouble in store, with the burly Dean Nolan a natural as Mum's diversion. A particularly fine performance too from Rob Delaney - no relation, surely- as the caring Geoff.
Much appreciated is the band in the attic, Rob Hiley (piano), Andy Baker (bass) and James Gilbert (drums).
Karen McKeown's design conjures, not so beautifully, the crumbling Victoriana that was in those days so much of Salford.
The production continues until Saturday 25th October 2008
Reviewer: Kevin Catchpole