Tatyana
Creation, direction and choreography by Deborah Colker
Companhia de Dança Deborah Colker
Barbican Theatre
–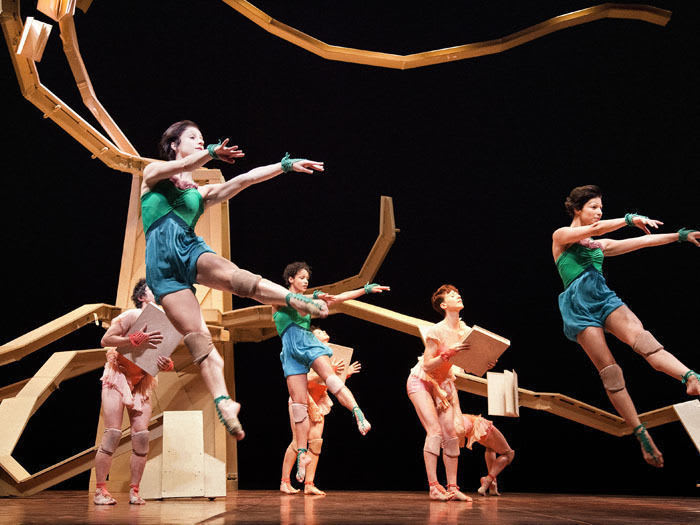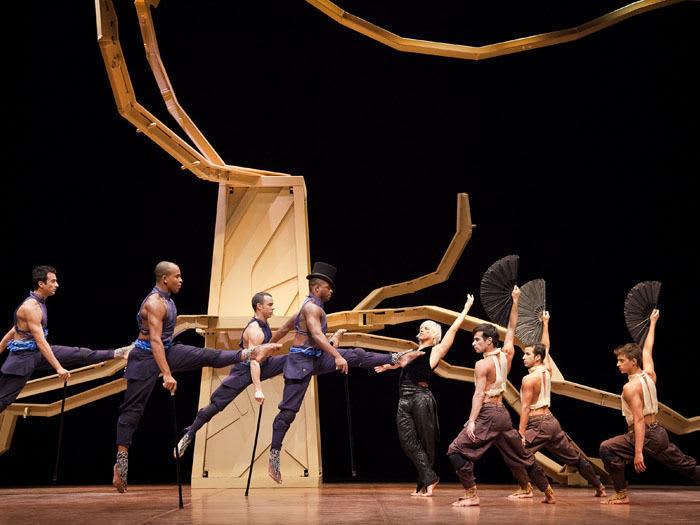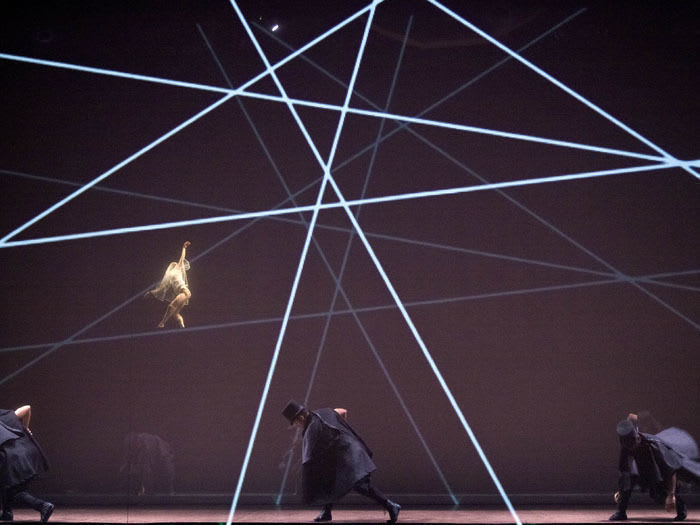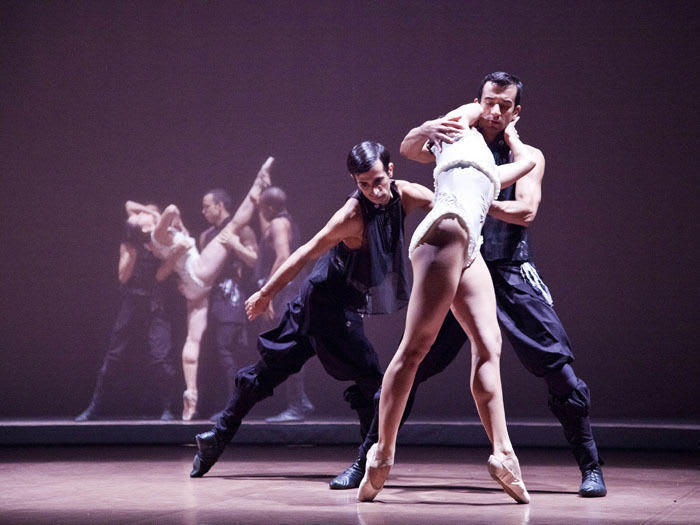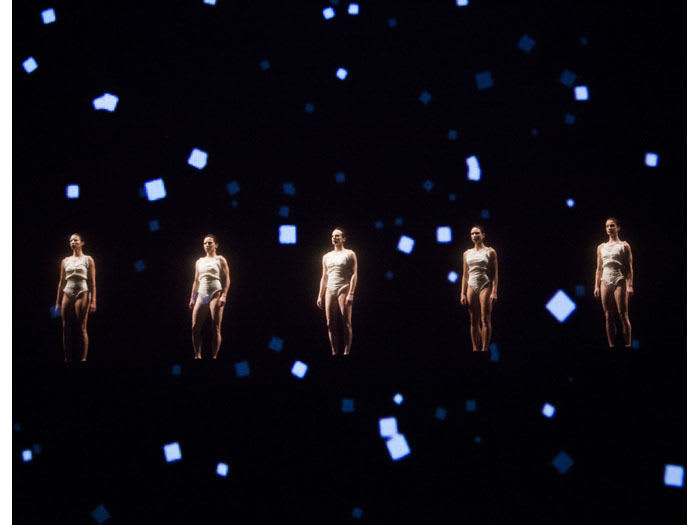 Ninety-five minutes of scorching dance powered by seventeen young dancers, soul-stirring music and cinematic score, Tatyana leaves one gasping and asking for more at its climactic end. Another viewing is a must.
The four main Russian protagonists of Pushkin's Eugene Onegin are deconstructed and refracted by the multi-talented Brazilian Deborah Colker.
Student of music, psychology, and dance (volleyball professional too) who began her choreographic career in 1984, Colker brings all to bear on Tatyana. The result: a sizzling dynamic of passion, propulsion, and multiple projection of the splintered self.
Each character is reflected fourfold. Four Tatyanas dream of love, four Olgas flirt, four innocent Lenskys go to their doom—fielding fans against the silver-topped canes of four Onegins in black they don't stand a chance.
Elegant Pushkin—his male and female aspects danced in Tatyana by 'Jimmy Savile' bleach-blond Dielson Pessoa and choreographer Colker herself in wet-look leather—becomes a Svengali, a cirque du soleil master of ceremonies, in a Las Vegas cabaret of emotions.
A huge 'David Nash' piece of sculpture, a metal tree, dominates the stage in the first half, its branches reaching the sky and the earth. The seminal playground of the story… The tree of life, the tree of knowledge… Tree, paper, book… Colker spells out the central concept of the bookish Tatyana's susceptibility to romance (and frottage). Pushkin rises from its mighty trunk, and leads the action.
Love letters, dreams, idyllic country life giving way to intrigue and duel, are served by Tchaikovsky, Prokofiev (Overture on Hebrew Themes a mellifluent finale to the first half), Górecki, and Stravinsky, on top of which float a barely audible Russian voiceover (Tatyana's letter to Onegin) and a funky sound fusion by Berna Ceppas, the musical director.
A melting of past and present further extended into the second half. Bare feet now in pointe shoes, lines of Wilis and Bayadères, no tree but darkness and laser lights, straight dissecting spears and curving Kandinsky lines, gossamer screens and mirror images.
Gringo Cardia's art direction and set design, and Jorginho de Carvalho's lighting are masterful, and the dancing becomes more intense to the thunder and dramatic sound effects superimposed on Richter's emphatic recording of Rachmaninov piano concerto no. 2 in C minor.
Primates (and Tarzan) leaping and swinging off the tree turn into doomed lovers in the second half: Onegin is left high and dry by a commanding Tatyana after a pas de deux of searing intensity. There's no doubt Colker intends to rouse elemental forces, and she succeeds in her manipulation—the packed auditorium loves her.
There is a synopsis in the programme, but it matters not, sit back and enjoy the dynamism of the dancers, who are formidable, acrobatic daredevils full of grace and beauty.
Metaphors and infinity imagery, drama and psychology, movement and music, knit to tell and explain a classic of the nineteenth century.
Ecstatic, with a primal sexuality and a witty metatextuality, Tatyana is all pheromones and over-heated melodrama.
Go and be swept along by a visceral retelling from an artist with a strong sense of the dramatic who is not shy of wearing her heart on her sleeve. Key words in the programme are whirlwind, delirium, enraptured, poetic forces, transcend, and collage. That just about sums it up.
Reviewer: Vera Liber