Tejas Verdes
Fermín Cabal, translated by Robert Shaw
Gate, Notting Hill
(2005)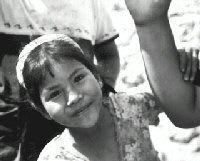 Thea Sharrock, the Gate's new artistic director, may regret opening her account as a director in her new home with this heart-breaking drama about Chile's Los Desaparecidos.
It will be almost impossible to live up to the incredibly high standard that she has now set for herself. Tejas Verdes has all of the hallmarks of the work of Ariel Dorfman. In a series of monologues delivered to a promenading audience in a claustrophobic graveyard of a set, the terrible story of an Everywoman, Colorina (song thrush in English), is analysed from many angles.
Along the way, the brutal regime of General Pinochet is condemned, while the actions of the major players are explained, in ways varying from irony to sympathy. The whole builds to a terrifying indictment of an awful period in a country's history.
Everything has been cleverly thought through, even prior to entering the auditorium. In true Tate Modern spirit, audience members are given torches and sent through what appears to be a dark mortuary into a pitch black tree-studded, earth-carpeted box, designed by Dick Bird. This presumably represents the graveyard overlooked by Gemma Jones' terrified gravedigger, complete with a very Shakespearean line in black humour.
The opening consists of a speech from the excellent Shereen Martineau as the highly intelligent and very unlucky victim, a forgiving person who views her torture and death from outside her body.
If the victim's story appeared moving, this is put into perspective by that of the "treacherous" fellow-student and friend who gave Colorina's name to the authorities, thus condemning her to torture and death. Diana Hardcastle gives a tearful and tear-jerking performance as a woman who can put up with enormities forced on her own body but cracks when the torture is extended to her six year-old son.
On the other side, we see the self-righteous prison doctor (Emer Gillespie) delivering her testimony of denial, in the measured tones made so familiar by Margaret Thatcher.
The ensemble is completed by Lou Gish's Spanish lawyer, a spinner only too happy to defend the sick and ageing Pinochet in a fashion that makes him sound more like a victim than a perpetrator.
This is close to a perfect piece of theatre. The taut plot is both moving and gripping and because of the promenading format, the poetic delivery is so in the audience's face (literally) that there is nowhere to hide.
The acting from all five performers is tremendous and the direction could hardly be bettered. Standing in a hot, darkened room for an hour and a quarter may not be everybody's idea of a great night out but for anyone who cares about humanity and worries about the terrors of totalitarianism, Tejas Verdes will prove an unforgettable and unmissable experience.
The staging may not transfer easily onto a West End stage and 75 minutes is generally regarded as too short. However, one desperately hopes that such a worthy piece swiftly follows Miss Sharrock's very different last effort, Blithe Spirit starring Penelope Keith.
Reviewer: Philip Fisher