Telling the Truth: How to Make Verbatim Theatre
Robin Belfield
Nick Hern Books
Released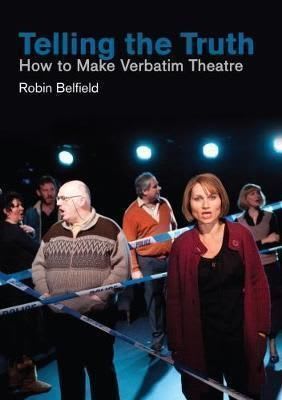 Over the last couple of decades, verbatim theatre has become increasingly popular. Recognising this development, Nick Hern Books has spotted a gap in the market and produced a 163-page handbook priced at £12.99 designed to help practitioners who wish to create their own work in this specialised field.
Robin Belfield is a theatre director and writer who has produced verbatim work of his own and is therefore well qualified to write a manual on the subject.
Telling the Truth is designed to be a simple, step-by-step guide for beginners who are tempted to compile plays from interviews and / or published data.
In a simple manner, the book takes readers through the processes that they will need to apply in order to come up with a finished verbatim play.
The chapter headings could not be simpler and largely tell their own story. They start with The Subject and move through Research, Words, Story and Edit, before branching out into a brief but very necessary consideration of the ethics and then look at matters from the actors' perspective finishing with the staging.
In addition to the main text, Belfield illuminates his thoughts with external material including commentary on a number of verbatim plays and interviews such as that with A C H Smith, who talks about his interviewing techniques, and Alecky Blythe, giving a brief overview of the ethos behind her very particular methodology, which involves asking actors to repeat words (and silences) delivered via earpieces.
While a number of practitioners contribute to the book, none of the three most prominent workers in this field over recent decades, Sir David Hare, Nicolas Kent and his Tricycle project colleagues or Robin Soans, features, which is a pity. However, Hilary McLean who acted in relatively minor parts in a couple of Tricycle Tribunal reconstructions gives a good flavour of their style.
The vast majority of the text represents little more than good common sense. However, it is always helpful to receive guidance from someone experienced in an otherwise relatively unknown area and, as such, there could be a good market for Telling the Truth, particularly amongst students and graduates wishing to dip their toes into the verbatim theatre water.
Reviewer: Philip Fisher