The Tempest
William Shakespeare
The Baxter Theatre Centre at the University of Cape Town in association with RSC
Richmond Theatre
(2009)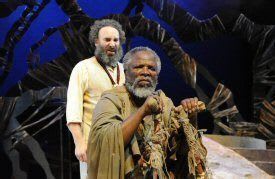 Janice Honeyman and her starry company from the Baxter Theatre Centre in Cape Town have redrawn The Tempest as a metaphor for the collapse of colonialism in Africa.
This short, light version of the play takes liberties with Shakespeare but is so effective both as an entertainment and medium for its message that its creators can instantly be forgiven.
The company is led by two towering actors who make viewers see their characters with fresh eyes. Sir Antony Sher is Prospero, a slightly unstable but intermittently genial and caring control freak with the wild eyes and hair of an eccentric inventor.
The man who stands proudly triumphant at the end of the evening is Caliban, surely no Shakespearean hero until now. John Kani plays the part of an elderly, cowed native with such dignity throughout that his final reward as a kind of precursor to Nelson Mandela seems entirely justified.
Around this pair, the company provides multiple attractions. To begin with, there is an onstage quartet providing African rhythms, created by Neo Muyanga. They often accompany visual marvels symbolising the island's magical properties, excitingly lit by Mannie Manim.
Using puppets and stilts, dance and singing with everything in vibrant colour, the actors and designer Illka Louw ravish the eyes and ears throughout two hour-long halves either side of the interval. The visual highlights include Sycorax made up from weird oversized body parts like a staged vision of a Picasso or Dali painting and a series of beautiful freaks seemingly drawn straight from dreams and nightmares.
The stories all make sense in context. Tinarie van Wyk Loots as Miranda moves with a simian fluidity and conveys youthful innocence and excitement at the advent of a brave new world for her, best represented by Charlie Keegan's Ferdinand, a late-Victorian public schoolboy type on the Dark Continent to learn how to subjugate.
His father and their companions are the wicked White men, who have not only usurped Prospero but will happily rule peoples whom they see as inferior species.
If Caliban is the epitome of honour, Atandwa Kani (John's son) playing Ariel, is a lively showman from a much younger generation only too happy to have fun at the expense of the White invaders, provided that he eventually wins his freedom.
Between the poles are Coloured menials Stephano and Trinculo who seize their fifteen minutes of drunken glory with both hands while always destined to fail longer term, and loyal Gonzalo in dhoti and Ghandi glasses.
There is little that can be faulted in an evening that boasts two of the finest stage actors in the world in a meaningful, if stripped-down envisioning of Shakespeare's last major work. On this showing, both the sensitive Tinarie van Wyk Loots and the versatile Atandwa Kani also have bright futures. Let us hope that all return to our shores before too long.
If nothing else, it would be a pity if this production, supported by the RSC, failed to play before London audiences at some point in the near future. It goes without saying that its closest approach, on Richmond Green, was over-subscribed long before the opening curtain of the run rose.
This production was reviewed by Kevin Quarmby at the Courtyard Theatre, Stratford, by Ray Brown in Leeds, and By Philip Seager in Sheffield
Reviewer: Philip Fisher